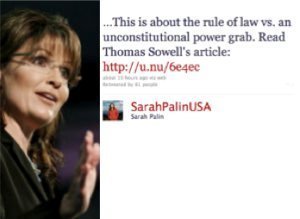 On Friday, Sarah Palin took to Twitter to direct her followers to read a recent op-ed from conservative columnist Thomas Sowell that compares President Obama to Hitler and warns that establishing a BP escrow fund could lead to further embrace of Nazi-like dictatorial powers.
"GOP: Don't let the lamestream media suck you into "they're defending BP over Gulf spill victims" bs," Palin wrote. "This is about the rule of law vs. an unconstitutional power grab. Read Thomas Sowell's article."
The ex-Alaska governor also provided her Twitter followers with a link to Sowell's article titled, "Is U.S. Now On Slippery Slope To Tyranny?"
Here's an excerpt of what the conservative voice had to say in criticizing the president as well as the idea of creating a BP-financed fund to pay restitution to victims of the massive oil spill continuing to devastate the Gulf Coast:
That law gave Hitler dictatorial powers that were used for things going far beyond the relief of the German people -- indeed, powers that ultimately brought a rain of destruction down on the German people and on others.

If the agreement with BP was an isolated event, perhaps we might hope that it would not be a precedent. But there is nothing isolated about it.
Earlier this week, Congressman Louie Gohmert cited the same piece from Sowell in delivering a speech on the House floor. The Texas Republican called Sowell "brilliant" and said that he would have voted for the columnist had he run against Obama in the 2008 presidential election.
There's a brilliant man named Thomas Sowell. And, um, I didn't vote for Barack Obama in 2008, but I sure would have voted for Thomas Sowell. This man, well, his article says quite a lot. His editorial, um, says here -- and it's just been posted this week -- but it says, "When Adolph Hitler was building up the Nazi movement in the 1920's" -- and I'm quoting from Thomas Sowell in his editorial...
WATCH: Gohmert Calls Sowell 'A Brilliant Man
Calling all HuffPost superfans!
Sign up for membership to become a founding member and help shape HuffPost's next chapter