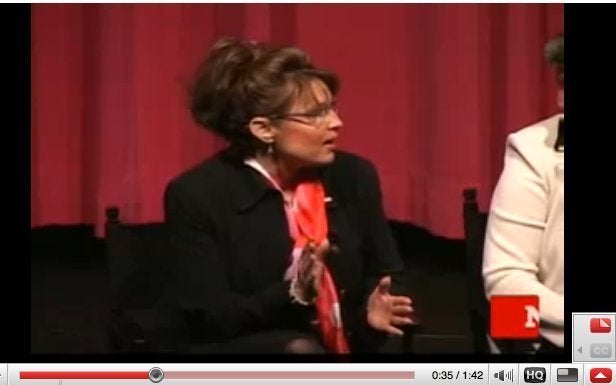 ***SCROLL DOWN FOR VIDEO***
Sarah Palin has largely stayed under the radar since her surprising and rambling press conference Friday announcing that she will resign as Alaska Governor on July 26th, barely halfway through her first term. However, she has resurfaced a couple times in the form of messages: One on her Facebook page, the other a statement released by her lawyer. Both have taken hard shots at the media for what Palin perceives as unfair coverage.
In her Facebook message, Palin slammed the press for their "predictable" coverage of her resignation and for applying "different standards" when covering her:
The response in the main stream media has been most predictable, ironic, and as always, detached from the lives of ordinary Americans who are sick of the "politics of personal destruction". How sad that Washington and the media will never understand; it's about country. And though it's honorable for countless others to leave their positions for a higher calling and without finishing a term, of course we know by now, for some reason a different standard applies for the decisions I make.
Understandably, much of the media coverage has focused on Palin's reasons for resigning, as her lengthy goodbye speech did nothing to clear up the confusion. One oft-repeated theory is that there is a new scandal looming; talk of ethical problems has been swirling around in Alaska for weeks. Palin's lawyer released a statement threatening to sue various media, including the Huffington Post, for what he called "defamatory rumors."
Palin is known for her hostility towards the media. But she has not been so quick to decry tough scrutiny when it is pointed at other female targets: Hillary Clinton, example.
In August 2008, Palin lamented Clinton's complaints about unfair media coverage as 'whining' that is bad for female candidates everywhere (H/t Wonkette):
Fair or unfair, I think she does herself a disservice to even mention it. You gotta to plow through that. You have to know what you're getting into -- which, I say this with all due respect to Hillary Clinton, and to her experience and to her passion for changing the status quo also -- but when I hear a statement like that coming from a woman candidate with any kind of perceived whine about that excess criticism or you know maybe a sharper microscope put on her, I think, 'man that doesn't do us any good' -- women in politics, women in general wanting to progress this country, I don't think it bodes well for her, a statement like that. Because, again, fair or unfair, it is there, I think that's reality, and I think it's a given. I think people can just accept that she is going to be under the sharper microscope. So be it. I mean, work harder, prove yourself to an even greater degree that you're capable, that you're going to be the best candidate, and that of course is what she wants us to believe at this point. So it bothers me a little bit hearing her bring that attention to herself on that level.
Send us tips! Write us at tv@huffingtonpost.com if you see any newsworthy or notable TV moments. Read more about our media monitoring project here and click here to join the Media Monitors team.