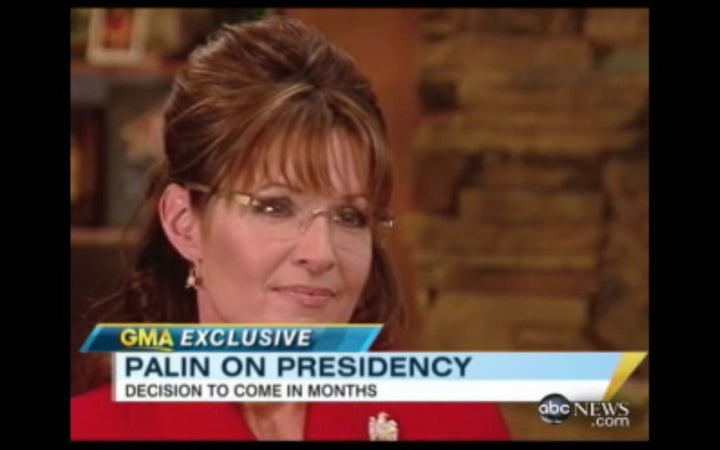 Former Alaska Governor Sarah Palin appeared on ABC News's "Good Morning America" for an exclusive interview Friday, in which she went on the offensive against her usual suspects and argued that there was a "double standard" on the political tears of men and women.
Palin wasted no time criticizing President Obama and his recently passed tax cut plan, which he is expected to sign shortly. Obama, she maintained, is "fundamentally transforming America."
"We don't need a fundamental transformation, we need a renewal and a restoration of what is good about America," Palin said. "That's strong national defense, that's free market principles, being allowed to be applied so that our private sector grows and prospers."
As for the tax cut plan, which among other things will extend the Bush tax cuts for the wealthiest two percent of Americans, Palin explained her lasting opposition to the "lousy" deal as a function of its "temporary" nature and its re-implementation of an estate tax, a rate that many Democrats argued was too low, but other Republicans wanted to repeal permanently.
"Congress, just hold off on this. President Obama, just hold off on this. Let the new Congress be seated and then let's do it right," Palin said.
Palin also characterized Obama's decision to put an extension of the high-end tax cuts on the bargaining table as a "flip-flop," and not a "compromise," which drew questions from GMA's Robin Roberts about what sort of actions people really wanted in their calls for "bipartisanship."
"I appreciate that he -- you can term it compromise, I term it flip-flop -- I was thankful that he did, but it's still not good enough," Palin responded.
Roberts also asked Palin about the recent introduction of future Speaker of the House John Boehner's renowned weeping.
"I respect John Boehner because he has worn his feelings on his sleeves on things that are so important to him, and the things that he has cried over are important to most Americans and I give him that pass, too," Palin said, "but yeah that's one of those things where a double standard certainly is applied."
Perhaps unaware that former presidential candidate Hillary Clinton attributed her 2008 primary win in New Hampshire to a tearfully emotional display while campaigning in that state, Palin continued:
"I'm sure if I got up there and did a speech and I started breaking down and cried about how important it is to me that our children and our grandchildren are provided great opportunities, I'm sure that I would be mocked a little bit for that."
Palin also addressed her potential presidential aspirations, admitting that recent polling "doesn't look really pretty today," but expressing confidence that she would be able to make up ground on President Obama and other GOP contenders throughout the primary process -- if she were to run, of course.
Calling all HuffPost superfans!
Sign up for membership to become a founding member and help shape HuffPost's next chapter