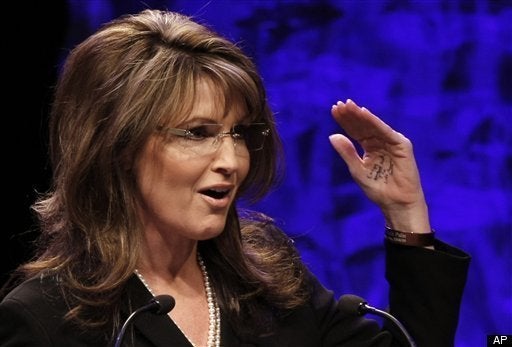 When the media first challenged her on the need to write her core beliefs on her hand to remember them, "I didn't really had a good answer, as so often -- is me," Palin quipped at an Ohio Right to Life fundraiser Friday. "But then somebody sent me the other day, Isaiah 49:16, and you need to go home and look it up. Before you look it up, I'll tell you what it says though. It says, hey, if it was good enough for God, scribbling on the palm of his hand, it's good enough for me, for us. He says, in that passage, 'I wrote your name on the palm of my hand to remember you,' and I'm like, 'Okay, I'm in good company.'"
The Bible doesn't mention permanent marker, of course; the line Palin referred to, "Behold, I have graven thee upon the palms of my hands," features "writing" that is significantly more permanent.
Before invoking God, Palin tried to explain away the hand notes by calling them "a poor man's teleprompter." Earlier in her speech before Ohio Right to Life, she claimed that she really got the idea from her schoolteacher father, who she said would "read the palm of his hand to see what, you know, was on tap first for the curriculum the next day."
Palin repeated the God story in Calgary on Saturday, after Canadian Sen. Pamela Wallin joked about her hand notes during a question-and-answer session. According to the National Post, one audience member yelled out, "Atta girl!"
In the Post's telling, Palin's Calgary speech sounded a lot like self-parody, though she might just be taking her stand-up in a new direction:
She complained about the "establishment," this woman who once ran to be second-in-command of the largest establishment in the world; she mocked the press, speaking as a correspondent to America's biggest news network; she chastised critics who dwelt on her children's lives, after introducing to the audience her daughter, Piper, who spent the duration of the speech fidgeting near the stage. And the politician who championed the average working man and woman spent an hour before her appearance locked away in a private VIP reception posing for photos with guests who had paid hundreds of dollars for the privilege; after her speech, she was hustled by handlers out a back door. If these were contradictions, they were forgiven readily. As is surely the case with so many of her audiences, Ms. Palin's unpretentiousness and charm, and her deeply held conservatism, counted far more.

Alberta, she believed, was a place where people were very much like her. "We have that independent, pioneering spirit, still, just coursing through the veins of the people who choose to live here, and who choose to live in Alaska." There were, by appearances, not many lumber-splitting mountain men or moose-hunting mothers in the crowd -- or even many average wage earners, like Stephanie, who saved their paycheques just to share oxygen with the dynamic, everywoman from Wasilla. And yet, somehow, as she said it, everyone in the room seemed to believe it too.
Immediately after comparing herself to God on Friday, Palin said the note currently on her hand reminded her to talk about money.
"What I scribbled on the palm of my hand tonight too -- it was the dollar sign, and I'm -- we're going to talk about the practical needs too for this cause, and this will remind me to -- because I didn't write it in my speech, I have to ad lib that part, so to remind me," she said.
WATCH a clip from Palin's appearance at the Ohio Right to Life fundraiser:
Popular in the Community