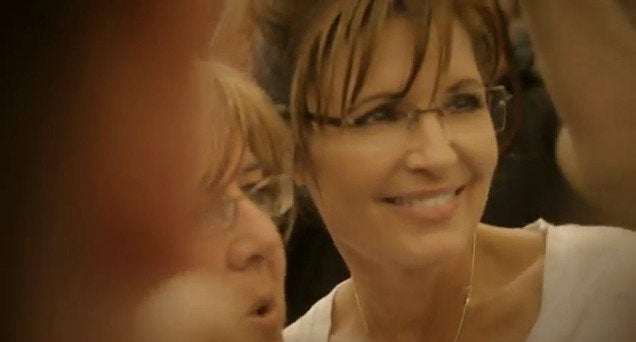 The highly-polished video, titled "Iowa Passion," features inspirational music as well as footage of adoring fans and news coverage of her visit. Interviewees in the video explain that Palin is "a normal person just like every one of us" and that she "seems pretty down to earth."
Footage of an interview Palin did with Sean Hannity also appears in the video. Palin says during the interview, "I think we're seeing a great awakening of the American public. The individual Americans who want the exceptionalism put back into our country."
Rachel Maddow tweeted of the video: "Why is it political common wisdom that Gov Palin is not running? What's her new Iowa ad for, if not for a campaign?"
NBC News' First Read observes, "This Palin video is too well produced for someone who doesn't want people to think she's at least thinking about running for president." In reference to the end of the video, First Read notes, "And, of course, it's hard to ignore that growling bear at the end as she promotes a Sept. 3rd rally in Iowa."
Palin is scheduled to keynote a tea party rally near Des Moines that day. And while she said during her last Iowa visit that she's nearing a decision on a presidential run and doesn't want to be "perceived as stringing people along," she continues to milk her indecision for everything it's worth. She reiterated to Fox News's Greta Van Susteren at the close of a lengthy interview Thursday night that she's still contemplating jumping in.
Popular in the Community