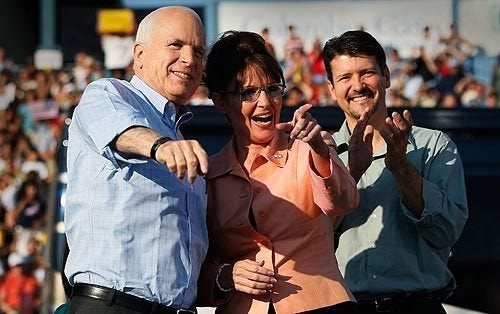 NEW YORK -- Long before the glory days of the Republican convention, the exultant crowds greeting them in venues across the country, the sniping and backtalk in the heat of the campaign and the post-defeat blame game, Sarah Palin and John McCain were engaged in a subtle courtship dance, much of which is revealed in the email document dump released today by the state of Alaska.
Months before Senator McCain picked her as his running mate, then-Governor Palin was privately expressing interest in the post. In an email sent on June 4, 2008, her aide Ivy Frye noted that McCain was being pushed to choose Palin for the VP slot.
"The second and third articles I've seen on vp buzz just today," wrote Frye. "Pretty cool."
Earlier, Frye had sent an email to other aides, as well as Palin's husband, Todd Palin, titled "VP Madness in ADN [Anchorage Daily News]." Enclosed was a write-up of another article suggesting that Palin had advanced to round two in the VP horserace.
And back in February of that year, another top aide, Frank Bailey, sent around a San Francisco Chronicle piece that referred to Palin as "Alaska's young, hot, Vogue-posing, female Republican governor" who "could become the popular favorite to be Sen. John McCain's running mate."
Later that summer, the feelers became more intense. Three weeks before McCain made the official announcement, he was already trying to enhance Palin's presence on the national stage -- and give him a boost.
On August 4, 2008, her schedule coordinator Janice Mason emailed her that McCain's spokesman wanted Palin to take part in a national press call on the following Wednesday, adding "it would help the elected official," and requesting that she discuss energy issues.
"I received a call from Charles Adams, Communications Advisor Department for Senator McCain. Mr. Adams was inquiring as to whether or not you would be interested in participating in a National Press Call on Wednesday, 08.06.08. This would be with their National Pool of Reporters. It has very good attendance on calls. It would help the
elected official. It would be a total of 15 minutes of your time and would be in regards to Energy. They do these National Press Calls each week. This is tentative at this time depending on your interest to participate. Thanks, Janice."
Palin's less-than-enthusiastic reply - "I could do this, time depending..."
Just two days before McCain's announcement, Larry King's staff wrote to see if Palin would be interested in discussing live via satellite "McCain's VP's choice."
In the days after the announcement, Palin received dozens of emails from excited Alaskans, expressing their pride in their home state heroine along with a few folks who expressed concern that she might be distracted from her gubernatorial duties.
One, Lee Grothe, wrote, "I know that John's only chance obtaining [sic] the Presidency is with you as his running mate." Another email came from Joel Crouch, who wrote, "Me and my partner were praying that we would get another Reagan and then Mccain [sic] nominated you. Perfect Choice. God's Blessing is on you..."
REAL LIFE. REAL NEWS. REAL VOICES.
Help us tell more of the stories that matter from voices that too often remain unheard.