 It should have come as no surprise to anyone who has watched Sarah Palin's erratic and dysfunctional behavior over the past four-and-a-half years that when it comes to Republican Party loyalty, she has none.
Zero. She loves to eat her own.
Indeed, throughout most of her political career -- from her first failed run for statewide office in Alaska in 2002, on through her ill-fated stint riding shotgun with John McCain in 2008, and, finally, to her slapstick and desultory bid for the presidency in the last election cycle -- Palin's principal enemies have been those figures in her own party who have in any way attempted to thwart her colossal personal ambitions.
Now add to that list GOP uber-strategist Karl Rove. Palin's widely publicized speech at CPAC this past weekend -- hailed by mainstream media pundits as her "re-emergence into the national spotlight" -- was little more than a veiled assault on Rove and his recently established Conservative Victory Project.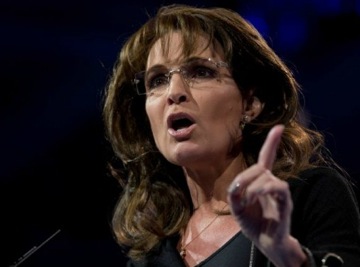 Palin, of course, never mentioned Rove by name. That's not her style. She prefers insinuation and innuendo, the subtle stab in the back, the gutless aspersion.
Sure, Palin still likes to take aim at "liberals" and the "lamestream media" and, of course, President Barack Obama, with whom she seems to be rather sickly obsessed (at CPAC she screeched out "Barack Obama, you lie!" and compared him to Bernie Madoff). Those kinds of rants, of course, build her street cred with the far reaches of the Republican right.
But the defining thread of her narrative at CPAC (such as it was) was a repeated drubbing of Rove and the Republican Party establishment. After her predictable jibes at Obama (does the "teleprompter" taunt really still fly when you are reading from prepared notes?), Palin went right after "Washington politicians" -- indeed those of "both parties" -- who "focus on the process of politics." She took a jab at the "permanent political class" -- stealing a famous phrase from her 2008 acceptance speech at the Republican National Convention -- and went after "big consultants" and the "Washington professionals" and "big money men" (all euphemisms for Rove & Co.) who meet at "the cocktail parties of power across the river."
Palin likes to pretend that she is somehow above the political process. But when she successfully captured the Alaska statehouse in 2006, she surrounded herself with Alaska campaign veterans and lobbyists -- all of whom she tossed under the bus during her first year in office. Palin waited until she famously quit as governor to stab her most loyal acolyte, Frank Bailey, firmly in the back. She loves to dig the stiletto in and twist it.
At CPAC, Palin didn't stop with her initial volley. She continued her rant by going after political strategists in the GOP, like Rove, who have called for "rebranding" and "rebuilding" the party. She described them as "too scripted" and "too calculated" and reviled them for wanting "to put a fresh coat of rhetorical paint on our party."
Palin, as she is wont to do, cast the conflict as one of "principles" over the practicalities of the democratic process -- of which Palin now likes to position herself above the fray. She accused her former Fox News colleague and others like him in the GOP of "theatrics," creating "sound and fury," and of "just making noise."
The irony of such accusations is completely lost on Palin. Self-introspection is anathema to her. She has never been able to look at herself in the mirror.
Trust me, I'm no fan of Karl Rove. Not by a long shot. But Rove is someone who obviously grasps the political calculus requisite to move a national party into the Oval Office. He's done it twice -- much to my dismay -- in this century.
According to my sources in south-central Alaska with direct links to the Palin family, Palin now has a personal vendetta against Rove. She blames Rove not only for her rather unceremonious departure from Fox News, but for her embarrassing bid for the presidency in 2012. In a widely cited interview in 2010 with Great Britain's Daily Telegraph, Rove suggested that Palin lacked the level of "gravitas" required to hold national office. It was a stinging rebuke of Palin aimed at GOP powerbrokers.
Indeed, Palin kept gnawing the same old bone at CPAC, winding her way back to a constant meme. And as she did, she ramped up her attack. "Now is time to furlough the consultants and tune out the pollsters," she admonished. "If we truly know what we believe, we don't need professionals [read Rove] to tell us."
Palin was there to stick the knife in Rove's "political bubble," as she dubbed it. "The last thing we need," she proclaimed, "is Washington, D.C., vetting our candidates."
And just so there was no mistaking who she was talking about, Palin snidely invoked George W. Bush's nickname for the Texas-based strategist -- "The Architect" -- taunting Rove and his associates to "head on back to the great Lone Star State" and to "buck up and run" for office. "I hope they give themselves a discount on their consulting services," she intoned derisively, the cynicism dripping from her lips.
Palin delighted in attacking Rove at the pocketbook. It's her favorite target -- because it's how she herself calculates her own worth. "Get over yourself," she bellowed, with an emphasis on the singular. "It's not about you."
It was classic Palin. Only this time around, her appearance at CPAC served to remind Americans from across the political spectrum just how far Palin has fallen. She is a sad and emaciated caricature of the once-bright star that emerged on the Republican political horizon in the summer of 2008. She's more vapid, more shallow, more narcissistic, more bitter, more insignificant, more delusional, and, almost impossibly, more mean spirited than ever before.
What a difference half-of-a-decade makes.
Rove, of course, has already volleyed back at Palin by denigrating her resignation from the Alaska statehouse. "If I did run for office and win," he retorted on Fox, "I would serve out my term and I wouldn't leave office midterm."
That is not likely to be the final shot fired in this GOP tête-à-tête. Both the tone and tenor of Palin's remarks reveal that she now has her sights focused on Rove and the Republican Party establishment. It should make for some entertaining battles in the months ahead. Internecine warfare is Palin's specialty. As I said, she loves to eat her own.

Calling all HuffPost superfans!
Sign up for membership to become a founding member and help shape HuffPost's next chapter