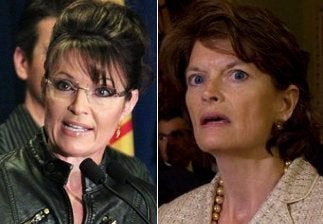 Former Alaska Governor Sarah Palin is fast becoming a headache for the national Republican campaign committees -- endorsing insurgent challengers over establishment candidates and, in the process, turning once-safe districts into heated contests.
The latest and most dramatic endorsement came on Wednesday, when Palin took to her Facebook page to announce her support for Joe Miller -- an Alaska Tea Party candidate who failed to win a state Senate seat -- in his effort to unseat U.S. Sen. Lisa Murkowski (R-Alaska) in the Aug. 24 primary.
Placed in a broader context, the endorsement is nothing more than Palin continuing to play the role of ideological warrior (if not party irritant). But the history between the former governor and Murkowski is too animosity-filled to ignore. Palin famously defeated the Senator's father during her gubernatorial bid in 2006 and she did so by pledging to break up the Republican power nexus that included the both Frank and Lisa Murkowksi
When Palin quit her governor's seat in 2008, Murkowksi did little to temper her disdain, accusing the conservative media darling of abandoning the state and warning her not to run for her Senate seat in 2010. Palin tried to quiet the talk of a Senate run by making a PAC donation to Murkowksi's re-election efforts. But she clearly wasn't interested in burying the hatchet.
It's hard to imagine that the National Republican Senatorial Committee is at all pleased that yet another round of media stories will now be published asking how deep the divides within the GOP will go -- even in Alaska.
Contested primaries are so good for America's political process! Competition makes everyone work harder, be more efficient, debate clearer, and produce more. So, Alaskans should be thrilled that Joe Miller jumped in the GOP race and is ready, willing, and able to serve us as our next United States Senator.

I'm proud to join so many other long-time Alaskans in supporting Joe Miller in the upcoming Alaska Republican Primary. Joe is a true Commonsense Constitutional Conservative, and we're thankful he and his family are willing to offer us a choice in Alaskan leadership.

I share Joe's belief that we are at a critical time in our nation's history and the status quo will no longer do. Unfortunately, Lisa Murkowski and much of the political establishment have recently evolved into being a bigger part of the big government problem in Washington, and they've strayed from the principles upon which they had espoused. They ushered in the largest increase in federal domestic spending since Lyndon Johnson's Great Society; it's an increase in government that political machines may embrace, but "we the people" reject because we know it's unsustainable and immorally burdensome to future generations.

Over a year ago, upon kicking off our Political Action Committee to assist candidates and promote competition in the nation's electoral system, with no one willing to challenge the political machine at the time, and amid rumors that I would challenge Lisa Murkowski for the U.S. Senate, SarahPAC contributed to Lisa's campaign. As she and I discussed, this was an attempt to reassure the Senator that I, as Alaska's governor, had no intention of jumping into the race. Though the media has tried to portray some sort of feud or bad blood between Lisa and myself, such is not the case. I've always wished her well, but it is my firm belief that we need a bold reformer who is not afraid to stand up to special interests and take on the tough challenges of our time. Joe Miller has stepped forward. I am thankful for his willingness to serve. He has fought alongside me and others to help clean up the Republican Party here in Alaska by bringing in new leadership, new ideas, and commitment to putting government back on the side of the people, not any political machine.
Popular in the Community