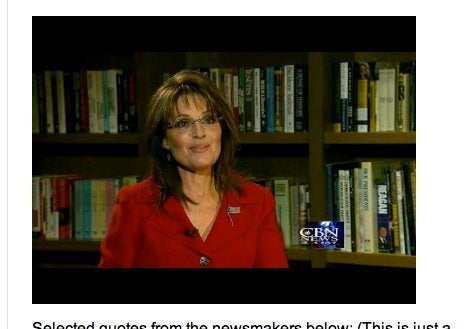 Sarah Palin says she could teach members of the mainstream media a thing or two when it comes to producing quality reporting and news coverage.
The former Alaska governor explains "I want to help them" in video of an interview she conducted with the Christian Broadcasting Network's David Brody published online on Wednesday.
"I have a journalism degree," she says. "That is what I studied. I understand that this cornerstone of our democracy is a free press is sound journalism. I want to help them build back their reputation and allow Americans to be able to trust what it is that they're reporting."
"I want to help clean up the state that is so sorry today of journalism," she told network host Sean Hannity at the time. "I studied journalism -- who, what, where, when, and why -- of reporting. I will speak to reporters who still understand that cornerstone of our democracy, that expectation that the public has for truth to be reported. And then we get to decide our own opinion based on the facts reported to us."
Below, video of what Palin had to say about the state of journalism to CBN.
Popular in the Community