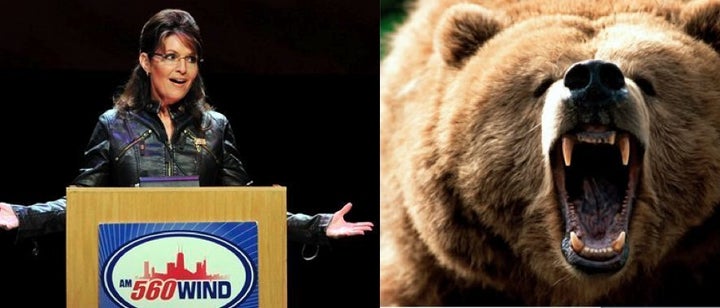 WASHINGTON — Former Alaska Gov. Sarah Palin said Friday that "mama grizzlies" will help Republicans win this November, sweeping away the agenda of President Barack Obama and the Democrats.
Addressing an anti-abortion group, the potential 2012 presidential candidate also said she understood how some women might consider abortion, citing her own experiences as the mother of a child with Down syndrome and the parent of an unwed teen mother. Last year, Palin said that "for a fleeting moment" she considered having an abortion when she learned of her son Trig's prognosis.
Palin said Friday that abortion is morally wrong and women should carry a fetus to term.
"It may not be the easiest path, but it's always the right path," she said.
Palin, the GOP's 2008 vice presidential nominee, used a speech to the Susan B. Anthony List to remind activists why they rallied behind the Republican ticket and why they should work to stop Obama's agenda.
She said Obama is "the most pro-abortion president ever to occupy the White House" and asserted that the health care law would fund abortions.
In fact, Obama's health care law would not allow federal dollars to pay for elective abortions. Catholic hospitals and organizations of Catholic nuns backed the measure. U.S. Catholic bishops and major anti-abortion groups opposed it, arguing that federal dollars could end up paying for abortions.
Palin challenged Republican women – "mama grizzlies," she called them – to help the GOP "take this country back" and elect anti-abortion lawmakers. She praised female leaders of the tea party movement and invoked her 2008 acceptance speech where she compared herself to a pit bull.
"You don't want to mess with moms who are rising up," Palin said. "If you thought pit bulls were tough, you don't want to mess with mama grizzlies."
Palin also criticized the media, singling out their coverage of her daughter Bristol, whose pregnancy was announced days after Palin was named the vice presidential nominee. Bristol Palin is a single mother who works on an abstinence-only campaign.
"Choosing life was the right road, the right choice. ... It hasn't been easy and society, culture sure hasn't been easy on her," Palin said. "Wow, our culture and our media has made it rough on her."
She said some young women would see what happened to Bristol and perhaps be encouraged to seek an abortion instead of facing similar criticism.
She cast herself as a victim of a liberal media and elite academics.
"Some of them refused to admit I'm even a woman," she said.