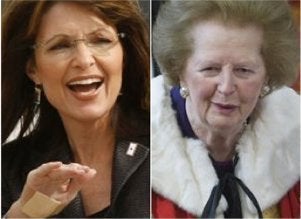 Sarah Palin reportedly has plans in the works to meet with former British Prime Minister Margaret Thatcher when she makes an upcoming trip across the pond to the United Kingdom.
British tabloid the Daily Mail first broke news of Palin's visit to the UK on Sunday, reporting that representatives for the ex-Alaska governor had reached out to Thatcher and asked "for a meeting as part of a bid to enhance her claim to be the 'heir to Ronald Reagan' and prepare to challenge Mr Obama."
According to the British tabloid, Thatcher accepted Palin's "informal" invitation to meet should she travel to London.
Meanwhile, Palin relayed news of her upcoming trip to the UK with a slightly different twist. When the ex-governor took to Facebook to address the matter Monday, she signaled that her arrangement to meet with Thatcher arose from an invitation extended by the former Prime Minister:
Following an article in a British publication on Sunday, I've received questions about a possible trip to the United Kingdom. I have received an invitation for a visit to London, and part of that invitation included the offer of arranging a meeting between myself and one of my political heroines, the "Iron Lady," Margaret Thatcher. I would love to meet her and hope I'll be able to arrange the trip in the future.

As I wrote last year when I offered her birthday wishes, Baroness Thatcher's life and career serve as a blueprint for overcoming the odds and challenging the "status quo." ... I cherish her example and will always count her as one of my role models. Her friendship with my other political hero, Ronald Reagan, exemplified the Special Relationship between the United States and the United Kingdom.
Politico relayed confirmation from Palin's camp on her travel plans Monday afternoon, but did not refute the ex-governor's suggestion that her arrangement to sit down with Thatcher materialized from an invitation on the former Prime Minister's end -- an indication contradicting the Daily Mail's earlier report.
According to the Daily Mail, Palin has made no outreach to current Prime Minister David Cameron -- a gesture which the tabloid characterized as "embarrassing":
Any trip by Mrs Palin to Britain could cause potential problems for David Cameron.

Embarrassingly, Mrs Palin's team have not contacted No 10 so far.

One individual involved in the talks about the visit said: 'Palin's people haven't said anything about meeting Cameron. Their main interest is getting a picture of her with Lady Thatcher. I'm not sure they know who David Cameron is.'