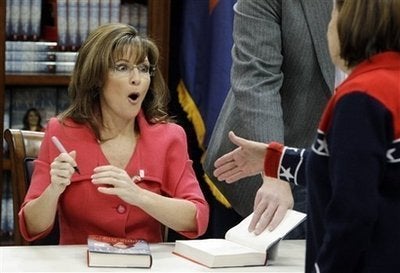 Could Sarah Palin become the highest profile conservative to endorse reforms to the nation's marijuana laws?
As evidence that Palin might be willing to support marijuana, NSML's Campaign Manager Dave Schwartz pointed to Palin's willingness to endorse alcohol. Schwartz argues that alcohol is blamed for thousands of deaths annually, while marijuana is blamed for zero. He reasons that Palin should have no qualms about endorsing marijuana.
"It makes no sense to keep marijuana in the criminal market while a former vice-presidential candidate celebrates the alcohol industry," Schwartz said. "We want legitimate businesspeople in Nevada to benefit from the sales of marijuana, and we want adults to be free to choose whichever substance they prefer --marijuana or alcohol -- when they relax after work."
But Schwartz might do well to prepare himself for rejection. According to a Politico report, the former Republican candidate for vice president charges at least $75,000 per speaking engagement.
Republican figures who support marijuana reform include former New Mexico Gov. Gary Johnson, Rep. Ron Paul (R-Tex.), former Rep. Bob Barr, and Rep. Dana Rohrbacher (R-Calif.).