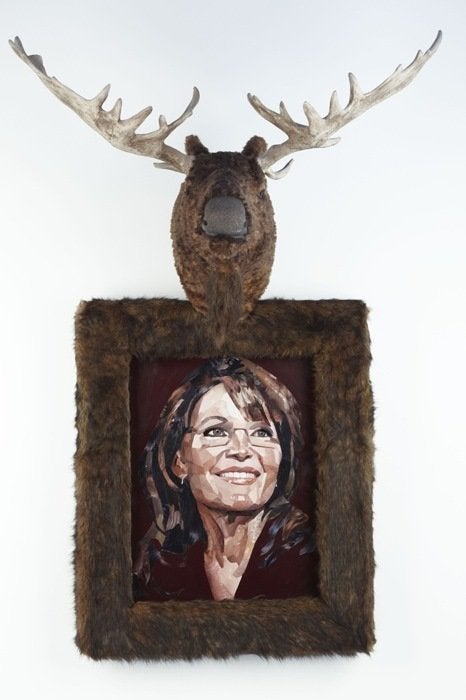 LOS ANGELES--Political junkies might have heard recently that the Tea Party Nation had to cancel its July convention in Las Vegas because it was too hot. Perhaps Beverly Hills might do as an alternative venue. Next week, on Beverly Boulevard, the right-wing group will have a chance to coalesce around what may be the most, shall we say, revealing image of their de facto leader to date. As part of the "Porn in the U.S.A." exhibition at the London-based Lazarides Gallery's L.A. pop-up space, British artist Jonathan Yeo -- who rose to international attention after making a collage of George W. Bush out of clippings of pornography in 2007 -- will unveil another series of provocative collages next Friday. Among them you'll find Tiger Woods, Sigmund Freud, a wizened image of Sean Connery as James Bond, and the piece de resistance, Sarah Palin, wrapped in a moose head frame, no less. Instead of oil, the former Alaskan governor's face is rendered with images of pubic hair, lace panties, and engorged reproductive organs of both sexes. "They're not insults, per se," Yeo told ARTINFO. "They're just comments on people who trade off their morality and sexuality.
While these works are primed to spark a political uproar, and perhaps outshine his deftly rendered portraits and wallpaper, "it was important to do a couple of eye-catching ones where people would get the joke as a way of leading people into it," said Yeo, who's currently installing the show in Los Angeles. "But hopefully they'll come in and find there's all sorts of things they weren't expecting." He added, "There are two potential audiences: the knowing art world people -- people who will come down because they have an idea of what's going on -- and the people who come by because of the massive walk-by pedestrian traffic."
Read more at ARTINFO... And make sure you look very closely.