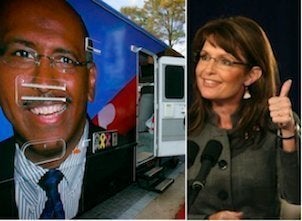 Sarah Palin and Michael Steele, two of the GOP's more against the grain figures, will be coming together in October to help raise money for the RNC.
The former Alaska Governor and current RNC Chairman are set to make two stops, one in Anaheim, California, on October 16 and another in Orlando, Florida, on October 23, Politico reported Thursday morning.
The coming together of two of the mainstream GOP's most controversial characters could be interesting. Though Sarah Palin has often expressed support for the RNC's embattled chairman, she has not always been happy with the Committee's actions. In March, Palin repeatedly asked the RNC to remove her from a list of speakers invited to a New Orleans fundraiser.
But despite Palin's notoriously complex relationship with establishment Republicans and the RNC, the Washington Times recently reported that the RNC was covering a sizable portion of Sarah Palin's legal fees left over from her vice-presidential campaign in exchange for her fundraising help. In total, the Times reported, the RNC had fielded around a quarter of a million dollars worth of costs. Earlier this month, Palin even attached her name to an RNC get-out-the-vote letter.
CNN relays some of the details of the upcoming rallies:
According to a copy of the invitation acquired by CNN, contributions for the events range from $25 per person to attend one of the rallies to $30,400 per couple for a private meeting and reception with Palin and party leaders.
Popular in the Community