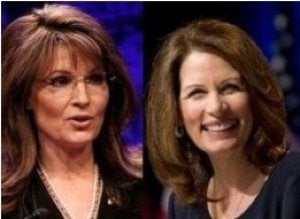 Just how much are Republican donors willing to pay for a private photo opportunity with conservative firebrands Sarah Palin and Rep. Michele Bachmann (R-Minn.)?
The folks at Minnesota-Bachmann Victory Committee are putting the price tag at a whopping $10,000 per couple, according to a copy of the invitation obtained by the Huffington Post
According to the invitation, attendees at the April 7 event in Minneapolis are asked to spend $500 per person for attendance at the General Reception and Dinner; $5,000 for a table of ten; and $10,000 per couple for a "Private Reception with Photo Opportunity. (Included in the latter is a table for ten as well).
The money donated will, per campaign finance rules, have to be spread among various committees. The first $2,400 would go to Bachmann's primary election fund. The next $2,400 would go to her general election refund. And up to $10,000 can go to the Republican Party of Minnesota.
That's not small change, especially for two pols who say they speak on behalf of real, working class America.
Also expected to attend the fundraiser are Minnesota Gov. Tim Pawlenty, former Sen. Norm Coleman, Congressman John Kline, and Congressman Erik Paulsen.

Popular in the Community