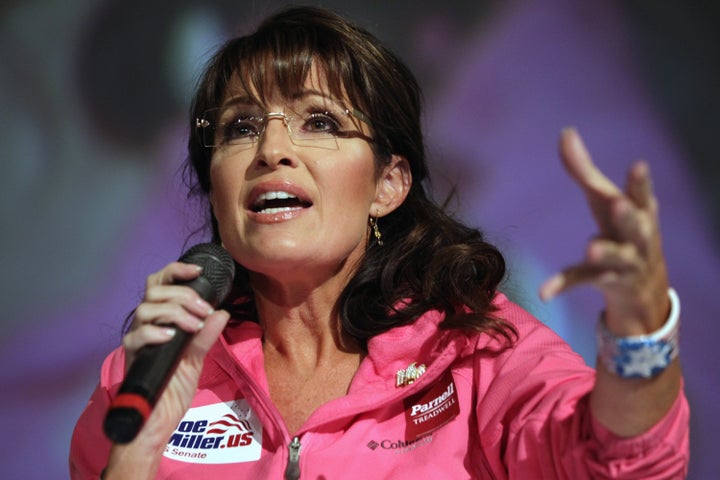 Sarah Palin is set to reveal, in what may be her most frank and clear terms yet, the necessary steps that she believes she must take in order to prepare herself for a presidential run in 2012, an undertaking that is looking increasingly likely. What's more, she spills it to the New York Times.
Palin admits to Robert Draper of the New York Times magazine that "proving my record" is "a hurdle I would have to cross, that some other potential candidates wouldn't have to cross right out of the chute," according to Politico's advance look of the article.
"That's the most frustrating thing for me -- the warped and perverted description of my record and what I've accomplished over the last two decades," Palin continued. "It's been much more perplexing to me than where the lamestream media has wanted to go about my personal life. And other candidates haven't faced these criticisms the way I have. ... I'm on television nearly every single day with reporters ... Now granted, that's mainly through my job at Fox News, and I'm very proud to be associated with them, but I'm not avoiding anything or anybody. I'm on Facebook and Twitter. I'm out there. I want to talk about my record, though."
In this, Palin seems to be trying to equate her Fox News and social media presence to a degree of open access that she has long been criticized for not possessing.
Asked by Draper if she's considering a run for president, a question that Palin seems to be asked almost daily -- if not more frequently -- the former Alaska Governor responded:
"I am...I'm engaged in the internal deliberations candidly, and having that discussion with my family, because my family is the most important consideration here."
"Palin went on to say that there weren't meaningful differences in policy among the field of G.O.P. hopefuls 'but that in fact there's more to the presidency than that' and that her decision would involve evaluating whether she could bring unique qualities to the table. 'Yes, the organization would have to change,' Palin said. 'I'd have to bring in more people -- more people who are trustworthy,'" Politico previews.
As for how she consumes her media on a daily basis, Draper also reveals Palin's form of morning mental calisthenics:
"Every morning, Palin reads a briefing consisting of a few bullet points prepared by [advisers Andrew] Davis and [Rebecca] Mansour. ('I wouldn't make too much of it,' Davis cautioned me. 'It's like [Politico's] Playbook, only without the birthdays. Sometimes I throw in a sports score.')"
Popular in the Community