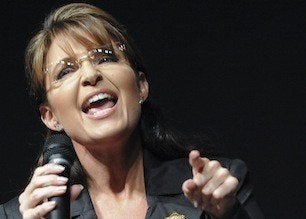 Sarah Palin blasted out a dispatch to her Facebook supporters Monday, taking aim at the Obama administration's handling of the latest WikiLeaks document drop and criticizing the White House's "incompetent handling of this whole fiasco." The former Alaska governor also seemingly encouraged the hunting of WikiLeaks founder Julian Assange with "the same urgency we pursue al Qaeda and Taliban leaders."
In her Facebook post, Palin questions the timing of Obama's recent steps to try to patch intelligence holes that have allowed repeated leaks of classified information:
The White House has now issued orders to federal departments and agencies asking them to take immediate steps to ensure that no more leaks like this happen again. It's of course important that we do all we can to prevent similar massive document leaks in the future. But why did the White House not publish these orders after the first leak back in July? What explains this strange lack of urgency on their part?
Palin also takes a shot at the failure to capture or stop Assange, an ineffectiveness that she appears to characterize as a lack of effort or caring by the Obama administration:
First and foremost, what steps were taken to stop Wikileaks director Julian Assange from distributing this highly sensitive classified material especially after he had already published material not once but twice in the previous months? Assange is not a "journalist," any more than the "editor" of al Qaeda's new English-language magazine Inspire is a "journalist." He is an anti-American operative with blood on his hands. His past posting of classified documents revealed the identity of more than 100 Afghan sources to the Taliban. Why was he not pursued with the same urgency we pursue al Qaeda and Taliban leaders?
Palin expressed similar annoyance on Twitter Monday, when she compared her own legal effort against leaks to the latest intelligence releases:
Inexplicable: I recently won in court to stop my book "America by Heart" from being leaked,but US Govt can't stop Wikileaks' treasonous act?
Rep. Peter King (R-N.Y.), a key legislator on national security issues, recently spoke with similar severity. The Associated Press reported Monday:
New York's Rep. Peter King, the ranking Republican on Homeland Security, said that if the lives of some Americans are endangered by the illegal release of classified information by the Wikileaks website, then the government should "go after" the people who control WikiLeaks for violating the espionage act.
It's possible that Palin and King will get their wish. White House Press Secretary Robert Gibbs said Monday that he "wouldn't rule anything out" in the administration's pursuit of strict legal action against the website.
Popular in the Community