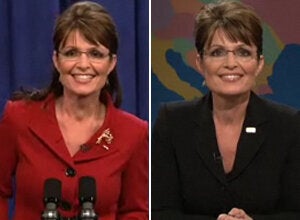 The "Saturday Night Live" costume designer Wednesday night revealed the struggle he had in dressing Sarah Palin: she wanted to wear nicer clothes than they had picked out for her, reflecting the new image she has carefully constructed on the campaign trail.
Of Palin, Broecker said, "In speaking with her, I had to get her to understand why she needed to wear the same thing as Tina [Fey]. We had gone off and created it for the first time a month ago, a look we identified as Sarah Palin. She had moved on in her own image of herself. I said, 'I know you've moved on ­ you're wearing tighter clothes, more black ­ but this is the character of Sarah Palin.''

The compromise, he said, was Palin returning in her own clothes the second time she appeared on the show to cheer on Amy Poehler's Palin-themed rap.
Sarah Palin dressed in red for the opening skit (per "SNL" wishes):
Then, later, Sarah Palin dressed in black (the compromise):