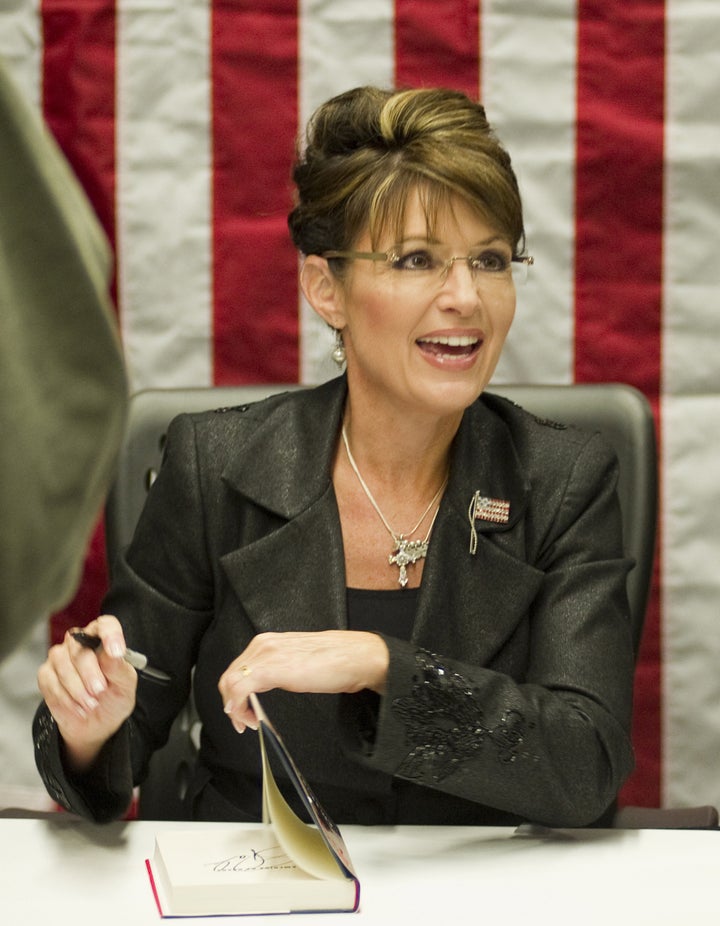 WASHINGTON -- Shortly after news broke that Rep. Gabrielle Giffords (D-Ariz.) had been shot at a congressional event in her district, observers began noting that she had, during the campaign, literally been Sarah Palin's target. But a Palin aide is now explaining that it was all a misunderstanding: the infamous image was never meant to evoke guns or violence.
Palin's "Take Back the 20" campaign (the website has been taken down since the shooting) called on Americans to vote out of office Democrats from conservative districts who had voted for health care reform.
On March 23, she posted an announcement about the campaign on her Facebook page, which was accompanied by an image of her targeted districts. The districts all had crosshairs over them, which are usually associated with gun sights.
But SarahPAC staffer Rebecca Mansour, who has been tweeting in defense of her boss since the tragedy took place, is stating that the crosshairs were never intended to be gun sights.
"We never ever, ever intended it to be gun sights," she said in an interview with talk radio host Tammy Bruce Saturday. "It was simply crosshairs like you'd see on maps." Bruce suggested that they could, in fact, be seen as "surveyor's symbols." Mansour added that "it never occurred to us that anybody would consider it violent" and called any attempts to politicize the Arizona tragedy "repulsive."
The suggestion that the symbols were related to guns seemed to come, however, from Palin herself. On March 23, Palin tweeted to her supporters a note about the aforementioned Facebook message, writing, "Commonsense Conservatives & lovers of America: 'Don't Retreat, Instead - RELOAD!' Pls see my Facebook page." And as Politico's Jonathan Martin points out, in November Palin boasted about defeating 18 of the 20 members on her "bullseye" list.
Of the 20 districts targeted by Palin, Giffords and Rep. Nick Rahall (D-W.V.) were the only two candidates to win over her PAC's chosen Republicans.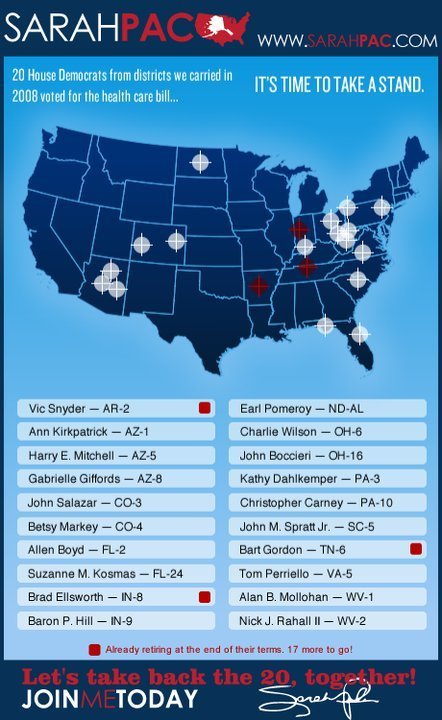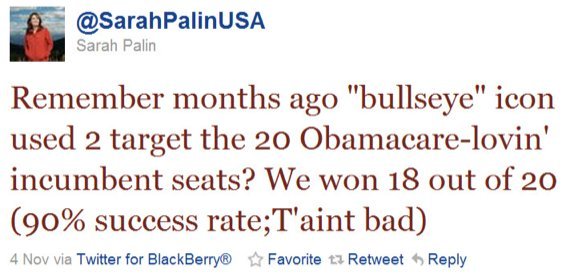 Support HuffPost
The Stakes Have Never Been Higher
Related
Popular in the Community