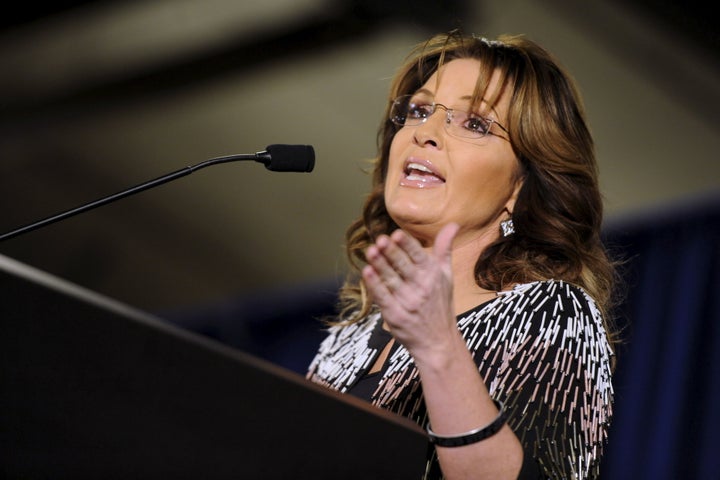 When Sarah Palin defended governors who are refusing to accept refugees by claiming there's no vetting process to keep out terrorists, "Late Night" host Seth Meyers completely shut down her argument.
In an appearance on the show Monday night, the former Alaska governor suggested that the 28 U.S. governors who have vowed to keep refugees from entering their states (not that they have the authority to do that, anyway) are just trying to protect their constituents from undercover terrorists let in indiscriminately by the federal government. 
"Their message is, what is the vetting process?" Palin said. "How do we know that these are the innocents who are coming over and actually needing aid, and they're not the bad guys infiltrating under the guise of refugee? And they want a vetting process, because we don't have that from the top. We don't have that at the federal level."
Meyers was quick to fact-check Palin.
"We do, though," Meyers said. "In order for any refugees to come in, it is an 18- to 24-month process for them to get through. It starts at the U.N., and then it comes through multiple government agencies here in the states."
Palin's response? The feds are probably lying. 
"Well, I don't trust what the federal government is telling us," Palin said. "But even you should not trust that the federal government is telling you about the 18- to 24-month vetting process is as legit as perhaps they're trying to make the public believe."
Wrapping up the interview later, Meyers told Palin, "I think this idea that they're coming here to infiltrate, I think that is fear-based. I do think they want to come here and enjoy the same things you and I are lucky enough to enjoy."
PHOTO GALLERY
Top Palinisms
Calling all HuffPost superfans!
Sign up for membership to become a founding member and help shape HuffPost's next chapter