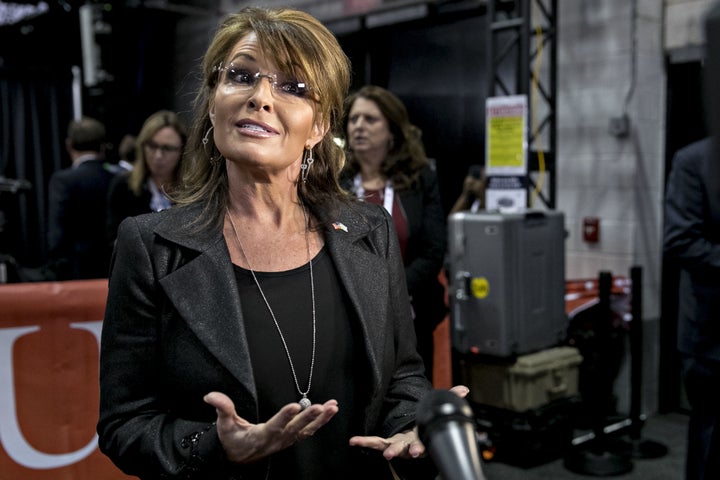 WASHINGTON -- Former Alaska Gov. Sarah Palin (R) is keeping the door open to running for office again, saying she believes God doesn't want her to let her talents go to waste. 
"I would [consider a run for office] because ... we know that we're equipped with passions, with interests, we're given those by our creator," Palin said Tuesday in an interview with conservative host Brian Kilmeade.
"And they're put in us not to frustrate us or tease us, or to just sit on those interests or those gifts of talent -- but they're to put us on a road toward fulfillment, toward productivity, ultimately helping other people. And I know that built within me is certainly passion for this country," she said. 
Palin was on Fox News Radio promoting her new book, Sweet Freedom. Kilmeade asked whether she was considering a bid for one of Alaska's Senate seats -- both are currently held by Republicans -- but Palin said she wasn't sure which office she'd be most interested in.
The 2008 GOP vice presidential nominee has been floating the idea of running for office again in recent days as she tries to sell more books. On CBS's "Sunday Morning," she said she would be "willing" to throw her hat in the ring, and in a "Good Morning America" interview on Tuesday, she said God would show her the way forward politically.
"Living my life, putting it in God's hands, you just never know what door may be opened," Palin said. "And if that door was opened, I'm built to run through it." 
Palin made similar comments about another bid for elected office last year, when she said, "[T]he more they're pouring on, the more I'm going to bug the crap out of them by being out there with a voice, with a message, hopefully running for office in the future, too." 
PHOTO GALLERY
Top Palinisms
Calling all HuffPost superfans!
Sign up for membership to become a founding member and help shape HuffPost's next chapter