Most Americans aren't very keen on the idea of Sarah Palin as a U.S. senator (or as any other public official), according to a new HuffPost/YouGov poll.
The survey found that 49 percent don't want Palin to hold public office again and another 15 percent couldn't muster enough enthusiasm to be sure either way. Only 35 percent said yes to the idea of Palin back in government.
The former Alaska governor said Tuesday on "The Sean Hannity Show" that she has "considered" a 2014 run for the Senate seat currently held by Sen. Mark Begich (D-Alaska).
"I'm still waiting to see, you know, what the lineup will be and hoping that, there again, there will be some new blood, new energy -- not just kind of picking from the same old politicians in the state," Palin said on the show.
But the chair of Alaska's Republican Party has said that he has not spoken to Palin about a possible Senate run or any other topic.
Although many may not want her to win, poll respondents were evenly divided, 39 percent to 39 percent, on the specific question of whether Palin should run for the Senate next year.
If she were to run, a Public Policy Polling survey conducted in February suggests that Palin would face an uphill battle to unseat Begich. That poll found the incumbent leading Palin 54 percent to 38 percent among Alaska voters in a hypothetical Senate matchup.
The new HuffPost/YouGov poll finds a big partisan divide on the notion of Palin returning to public office. Seventy-two percent of Republicans said they would support that, while 77 percent of Democrats said they would not. A 46 percent to 33 percent plurality of independents said they don't want Palin to hold office again.
Overall, only 38 percent of Americans said they have a favorable opinion of Palin, while 49 percent said they have an unfavorable opinion.
That's similar to another HuffPost/YouGov poll conducted last month, when respondents said they had an unfavorable view of Palin by a 52 percent to 37 percent margin. Still, frequent Fox News viewers in that survey said they were happy to see Palin return as a contributor to the network.
The HuffPost/YouGov poll was conducted July 10-11 among 1,000 adults using a sample selected from YouGov's opt-in online panel to match the demographics and other characteristics of the adult U.S. population. Factors considered include age, race, gender, education, employment, income, marital status, number of children, voter registration, time and location of Internet access, interest in politics, religion and church attendance.
The Huffington Post has teamed up with YouGov to conduct daily opinion polls. You can learn more about this project and take part in YouGov's nationally representative opinion polling.
Before You Go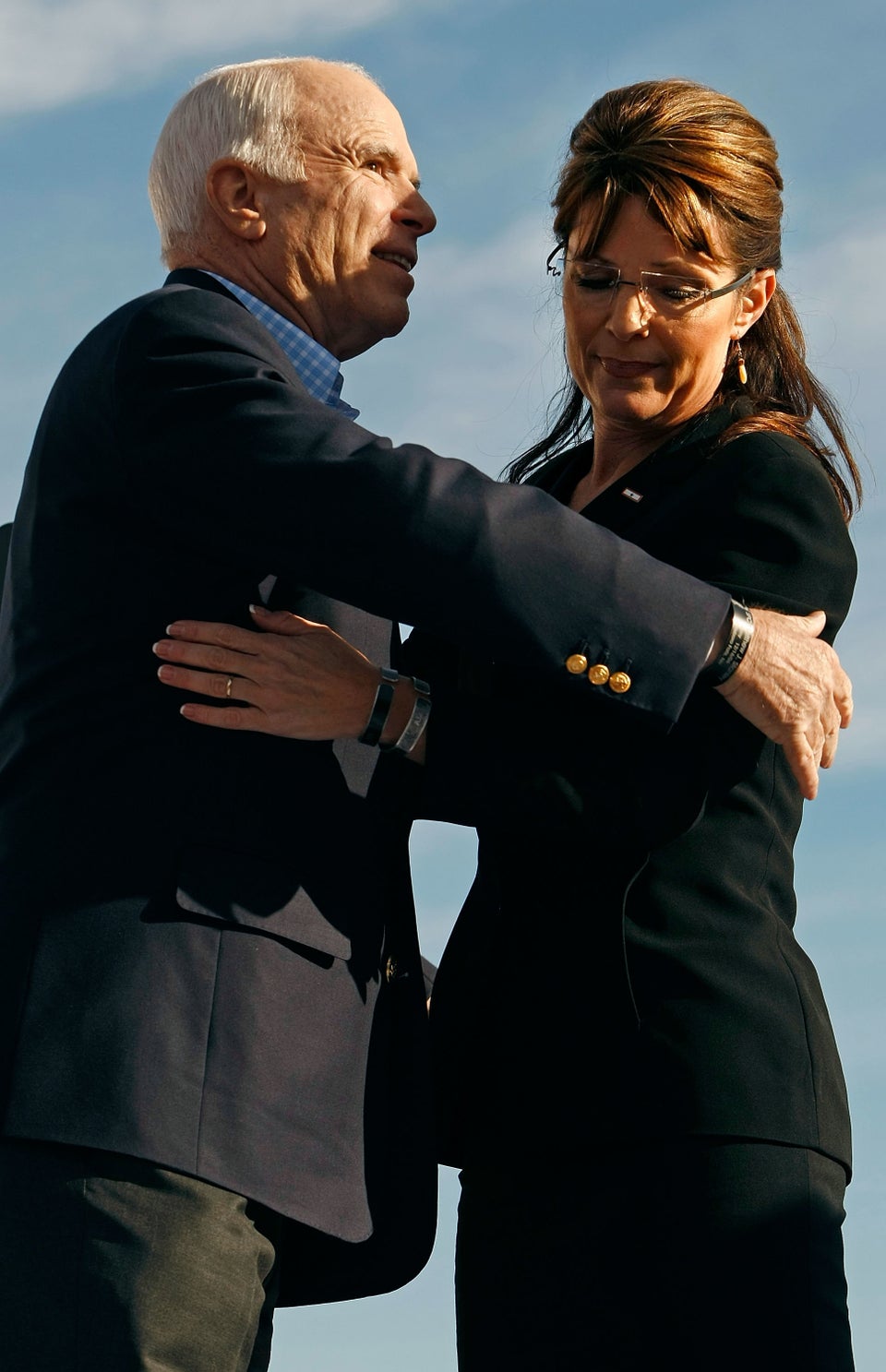 Sarah Palin Hugs It Out
Popular in the Community