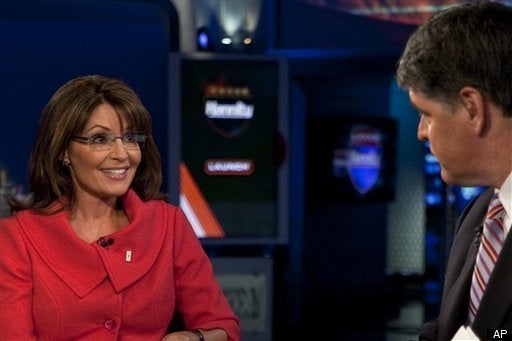 The reviews are in for Sarah Palin's "Real American Stories," which debuted -- minus LL Cool J -- Thursday night on Fox News. Widely expected to be terrible, it turned out to be merely boring.
"Sarah Palin didn't reload, she retreated into canned television formula," Alessandra Stanley wrote in the New York Times. "Fans who thought that having her own Fox News program would allow the former Alaska governor to be her true spontaneous and unfettered self had to feel let down by the debut of "Real American Stories" on Thursday night." Stanley's colleague Anahad O'Connor pronounced the show "relatively tame."
"Letdown" was also the word from the Washington Post, whose Hank Stuever deemed the Palin special "infotainment" -- "like one of those shows that's on when nothing's on and yet there is air to fill." The show, slated to air 'periodically,' was "innocuous, flat and political in only the most coded of ways," Stuever wrote. "It's like a Barbara Walters special for that particular media consumer who always complains that they never report any good news." Barbara Walters was also the point of reference for Entertainment Weekly's Ken Tucker.
And those coded messages? Corporate charity and success without obvious government help are common themes, as Mary McNamara noted in the L.A. Times. "But taken as a whole, the show has no over-arching point beyond the one sketchily provided by Palin's intro -- that Americans are a courageous and ingenious bunch and this is a country where anything is possible," McNamara said. "As a host, Palin brings little besides her name and all that it has come to mean," she added, with an unfavorable nod to the former governor's "frozen smiles and rhetoric."
Richard Huff of the New York Daily News was typically bullish on the host. "For Palin, this is a key step in her ascension in the TV world," Huff wrote. "A better production would help, and so, too, would having her do the field interviews." We can only hope.
Calling all HuffPost superfans!
Sign up for membership to become a founding member and help shape HuffPost's next chapter