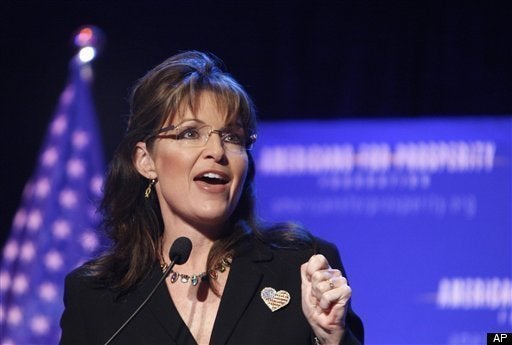 Not surprisingly, Sarah Palin had no problem dissing President Obama on his home turf Wednesday night, as she spoke to 4,000 Chicagoland fans about the Tea Party, patriotism and a local school's decision to prevent its girls basketball team from traveling to Arizona due to its new immigration law.
The event, in suburban Rosemont, followed a GOP fundraiser nearby.
Palin told the cheering crowd that she was "glad to be here on the president's home turf," adding: "Somebody told me, 'You know you're going into enemy territory.' I said, 'It's Chicago -- it's not MSNBC."
With a huge U.S. flag behind her and a podium in front of her, Palin criticized the "hopey, changey thing" in mocking Obama's campaign pledge of hope and change. She contended Obama's domestic agenda was expanding government and "leading us to European-style socialism with a European-style debt crisis right around the corner."

She also weighed in on some local issues.

Noting that the Highland Park girls held bake sales to pay their way to the national finals for the first time in 26 years, Palin suggested conservatives could get the girls to Arizona despite High School District 113's decision to keep the girls home this winter.
She also ripped the school for sponsoring a trip to China.
"You know how they treat girls in China?" Palin said. "It makes no sense."
Palin told the crowd that "the eyes of America are on this state," speaking of the upcoming elections. But Republican Senate candidate Mark Kirk, who sat out the Palin fundraiser, was also mocked by the audience during one portion of the event.

"Some Republicans apparently thought they'd have to move to the middle to win. I said, 'No, no, no, no, no. You win by letting the middle move to you. You let the folks in the middle of the road know that your ideas are the right ones."

When she mentioned "Republicans In Name Only" or "RINO's," a member of this very participatory crowd yelled out "Mark Kirk" -- the self-styled moderate GOP Senate candidate who did not attend Wednesday night's event so he could vote in Washington, D.C. Kirk has equivocated on whether he is seeking Palin's endorsement in his campaign for Obama's old Senate seat.
As for the Gulf oil spill? Not surprisingly, Palin's "Drill, baby, drill" mantra remained, according to the Tribune:
She said oil companies must be held accountable through strict standards, citing laws in her home state."We do have to drill. We cannot stall. We do need oil," she said.
While Palin certainly has her enemies, her fans seemed pleased Wednesday night. Those who made it to the pricey GOP fundraiser before the Rosemont Theater event seemed pleased as well:
"We talked about the situation in Illinois -- the deficit, the high taxes, job creation," Republican nominee for governor, State Sen. Bill Brady of Bloomington told the Sun-Times. "I told her, 'Your being here is helping rally the troops and get the message out.'"
WBEZ reports that just 35 percent of Illinois voters view Palin favorably, but state Republicans appreciate that she gets a some of the conservative base fired up.

Related
Popular in the Community