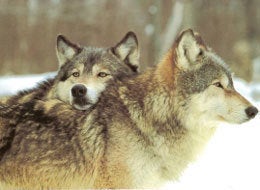 The wolf is an intelligent, handsome creature and, for many visitors to Alaska, an integral part of the state's wild appeal. Wolves live in complex social structures, mate for life and don't attack humans -- it's easy to see in them the family resemblance to mankind's best friend.
That's what makes it so painful to look at the video of an aerial wolfhunt in Alaska that has been circulating since Alaska Gov. Sarah Palin was nominated as Sen. John McCain's running mate on the Republican ticket.
In a program begun by ex-Gov. Frank Murkowski, and intensified by Palin, Alaska has sponsored the aerial hunting of more than 800 wolves since 2002 -- out of a state population of perhaps 9,000. Pilots chase the wolves through the deep snow, sometimes for miles, until the exhausted animals have slowed enough to be blown away with shotguns. Then the plane lands and finishes the job, unless the wounded wolf has managed to crawl into the deep woods to bleed to death in solitude.
Palin, who won office with the support of powerful hunting groups, has intensified the "cull." She pushed to offer a bounty to hunters who brought in a left wolf paw (lopped off with a chain saw) and extended the kill order to grizzly and black bears -- including sows and their cubs. Before a state court ruled the practice illegal, she offered a bounty of $150 for every slain wolf.
Hunting groups support the program, arguing that it increases the availability of game for poor Alaskans, and the sporting chances of hunters like Sarah and Todd Palin themselves, who have their sights set on moose. But wildlife viewing brings far more tourist dollars to the state, where only 11 percent of the population hunts.
Calling all HuffPost superfans!
Sign up for membership to become a founding member and help shape HuffPost's next chapter
Read more on The Washington Independent