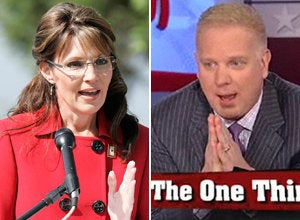 Sarah Palin is rallying her Facebook community behind Glenn Beck.
FOX News' Glenn Beck is doing an extraordinary job this week walking America behind the scenes of 1600 Pennsylvania Avenue and outlining who is actually running the White House.

Monday night he asked us to invite one friend to watch; tonight I invite all my friends to watch.

-Sarah Palin
Beck is hardly having trouble in the ratings, and many of Palin's supporters fall squarely in the Beck target audience, but it will be interesting to see if he experiences a "Palin Bump."
Beck has come under fire for his remarks that President Obama is a racist, which has led dozens of advertisers to pull their sponsorship from his show.
Related
Popular in the Community