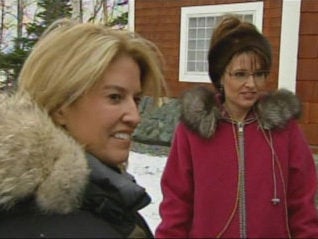 In the acknowledgments section of her book "Going Rogue", obtained by the Huffington Post on Friday, Sarah Palin thanks her friends in the media — by first name only:
To some media professionals whom I admire because you don't let anyone tell you to sit down and shut up, please keep making the idiots' heads spin. Thanks for not taking our Freedom of the Press for granted, you bold and patriotic, fair and balanced media folks. Keep calling it like you see it: Amanda, Andrew, Ann, Bill(s), Bob, Cal, Dennis, Dick, Eddie, Fred, Glenn, Greta, Hugh, Joey, John, Jonah, Larry, Laura, Lou, Mark, Mary, Michael, Michelle, R.A.M., Rich, Rush, S.E., Sean, Tammy, Walter.... And there are more. I join you in standing up for what is right. Remember that as your voice is heard and your spine is stiffened, the spines of others are stiffened, too.
Some of the first names seem easily attached to last names — Ann Coulter, Bill(s) O'Reilly & Kristol, Glenn Beck, Greta Van Susteren, Rush Limbaugh and Sean Hannity, for instance — while others aren't quite as clear.
First Names
Amanda
Andrew
Ann
Bill(s)
Bob
Cal
Dennis
Dick
Eddie
Fred
Glenn
Greta
Hugh
Joey
John
Jonah
Larry
Laura
Lou
Mark
Mary
Michael
Michelle
R.A.M.
Rich
Rush
S.E.
Sean
Tammy
Walter