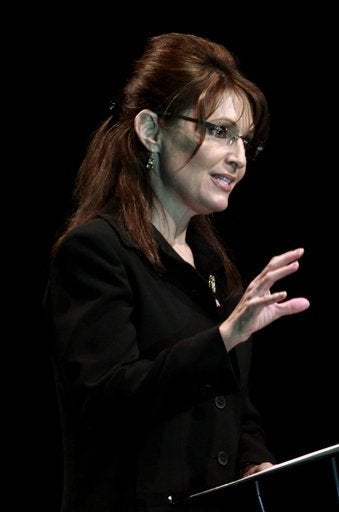 A custom firearms manufacture plans to give Sarah Palin a smokin' gift at a May banquet of the National Rifle Association, according to RedState.
NRA members, keep an eye out for your copy of May's American Rifleman, if it hasn't already arrived. According to the latest edition of the magazine, Bob Reynolds, gunsmith and owner of Templar Consulting LLC, will make a special presentation at the NRA Foundation Banquet on May 14.

It's a modified AR-15 (civilian version of the milspec M16 rifle), specially customized in honor of Gov. Sarah Palin and dubbed "The Alaskan Hunter."
The gift is an assault rifle custom-engraved with the image of a moose, the Big Dipper, a map of Alaska, and the words "In Honor of Governor Sarah Palin."
The governor could really mow down a moose with this thing, or perhaps spray several wolves from a helicopter, or, say, terrify one Levi Johnston.

UPDATE: A reader writes to say that I mixed up "assault rifle" and "assault weapon" -- while Palin's modified AR-15 would fit the legal definition of an assault weapon, it's not an assault rifle unless it's got "selective fire" capability -- meaning it can switch between fully automatic firing and semi-automatic firing.
REAL LIFE. REAL NEWS. REAL VOICES.
Help us tell more of the stories that matter from voices that too often remain unheard.