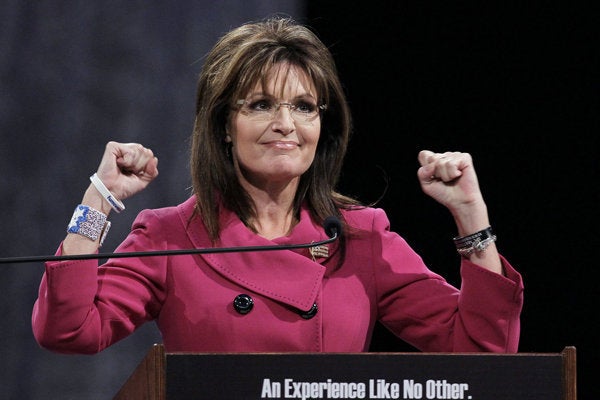 UPDATE (2/6): The Sharon K. Pacheco foundation released the following statement on its website Saturday, announcing the cancellation of the Palin event.
Denver, CO - The Sharon K Pacheco Foundation (SKP Foundation) announced today the cancellation of the 2011 Patriots & Warriors Charity Gala, featuring former Alaska governor Sarah Palin, citing safety concerns resulting from an onslaught of negative feedback received by the organization after yesterdays announcement.

Due to an onslaught of personal attacks against Governor Palin and others associated with her appearance, it is with deep sadness and disappointment that, in the best interest of all, we cancel the event for safety concerns, says the Foundations Director.

He points out that no direct threats have been made against anyone, but the recent increase in negative rhetoric against the former Alaska governor raises concern for her safety and the safety of others despite the call for civility in America, following the tragic Tucson shooting.

Additionally, we must protect the emotional safety of military families. "Military members and their families have been through a lot due to the wars. We have a responsibility to protect their emotional safety just as well," says Founder Leo Pacheco. "And unfortunately, some have overshadowed the purpose of this event by concentrating on their personal hatred of Sarah Palin, which is truly sad."

The organization deeply respects Sarah Palin, and appreciates her willingness to come and honor our military.

The organization plans to host the event at some point in the future, featuring another speaker.
* * * * * * * * * * * * * * * * * * * *
Sarah Palin will be in Denver on May 2 to speak at the Sharon K Pacheco Foundation's annual Patriots and Warriors Gala.
The event will be held at the Park Events Center in Glendale. Tickets are already on sale.
The Pacheco Foundation describes the fundraiser as "[A]n event with a two-fold purpose - first to honor service members and those who have given of themselves in service and/or sacrifice to our country... and to serve as the major fundraiser for the SKP Foundation."
The faith-based foundation was founded in 2002 to support military families & at-risk youth.
Palin will speak about "military support and honoring those who serve."
The former Alaska Governor and Vice Presidential Candidate has not been to Denver since May, 2010, when she spoke at Denver University.
As the Denver Post notes, the event conflicts with a Republican Presidential primary debate.
REAL LIFE. REAL NEWS. REAL VOICES.
Help us tell more of the stories that matter from voices that too often remain unheard.