Perhaps "Today" host Savannah Guthrie put it best: "irony alert."
It was truly an ironic moment on the show when Sarah Palin began decrying the "lamestream media" in an interview with Matt Lauer. Her interrogator quickly noted that she was about to become "technically part" of that reviled crowd, since she was going to join him as a co-host in less than an hour.
Sure enough, at 8 AM, Palin was out on the plaza with Lauer, Ann Curry and Al Roker — the show's most audacious effort yet to fend off a challenge from Katie Couric and "Good Morning America."
Palin's one-day stint as a "Today" host led to raised eyebrows and a frenzy of media coverage, with everyone zeroing in on the cross-network rematch between Palin and Couric, the woman who did more than anyone to put a dent in Palin's reputation. But the famous feud went unmentioned by both sides. On "GMA," Couric continued her week-long return to morning television, appearing not to have missed a beat in her many years away from the turf.
Palin was pretty poised herself when her co-hosting duties kicked off, reeling off the planned segments for the hour and even tossing to Roker for the weather. She then joined the show's soft news hour, accompanying Curry in several segments.
The shift from hyper-partisan political figure to cozy co-host was abrupt. Whereas, in the 7 AM hour, Palin parried questions from Lauer about the 2012 race (she pointedly refused to rave about Mitt Romney), by 8 AM she was laughing it up as one of "Today's Professionals."
Though she mostly shied away from politics, Palin couldn't help bringing them up at times — for instance, while commenting on Oprah's struggles with her OWN network.
"I think it'll still be around if she gets some conservatives!" she said.
"Let's move on," Lauer responded quickly.
When Lauer brought up an upcoming movie in which Ashton Kutcher will play Steve Jobs, Palin jumped in, noting that she has had experience with having people play her. She called the HBO movie "Game Change" a "narrative of false lies."
In the following segments, Palin functioned as a kind of part-guest, part-host, commenting and questioning in equal measure. Curry played ringmaster, gently cutting to commercial even as Palin kept talking. The two interviewed Tori Spelling and talked about raising teenager daughters, among other things.
"It's been a great morning," she said at the end of her appearance.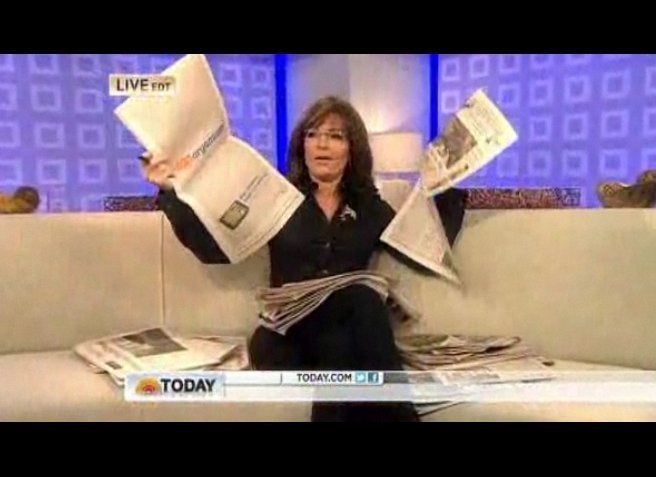 Sarah Palin On 'Today'