Want to know Sarah Palin's deep, dark secrets? Just ask the ladies of the Beehive Salon in Wasilla, Alaska where Palin has been getting her hair done for a mere $30 (and $75 for those really subtle highlights). The salon was showcased in a recent story in the New York Times, touted as a "modern" day equivalent to Dolly Parton's digs in Steel Magnolias. So? As Gawker points out- this deserves a feature story in the Times? Oy. Not only has Palin's hair become a topic of conversation of late, it has also spawned copycats. Salons have reported a spike in customers asking for Sarah's 'do. (Heck, we even offered some product picks to get that back to the 80s look).
But the most outlandish request thus far? Palin wigs. Lots of them. Yes, there has been an upsurge of Palin wig requests -- believed to be because of Halloween approaching next month.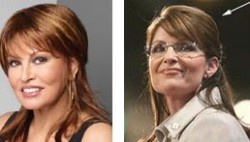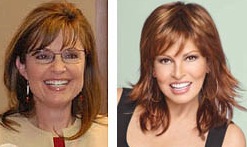 Want to get yours in time to plan the whole costume (glasses and all)? Wigsalon.com insists their Raquel Welch Valentine Wig is an exact match in color and cut - all you have to do is pin back the crown and add some hairspray.
Is Sarah Palin a decent Halloween costume or will she be old news by the time the 31st rolls around?