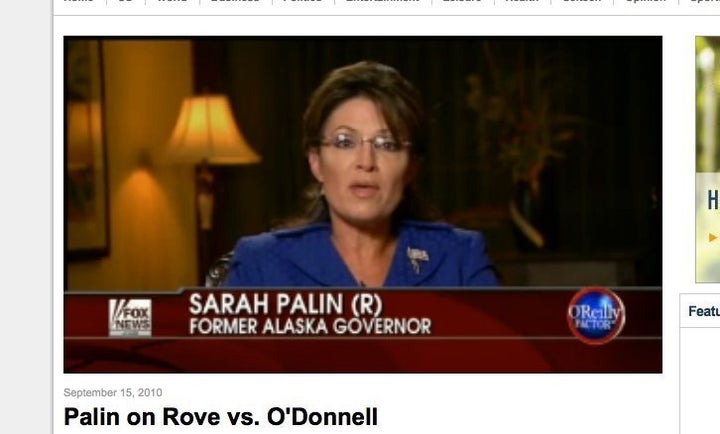 Sarah Palin spoke with Bill O'Reilly on Wednesday night and advised newly minted Tea Party-backed Senate candidate Christine O'Donnell to stick to Fox News in order to brand herself over the course of her campaign.
"She's gonna have to learn very quickly to dismiss what some of her handlers want. Remember what happened to me in the VP. I used to have to sneak in my phone calls to you guys to say, 'Hey, I'm here,' Palin said. "She's gonna have to dismiss that, go with her gut, get out there, speak to the American people, speak through Fox News, and let the independents who are tuning into you, let them know what it is that she stands for, the principles behind her positions.
O'Donnell, whose controversial views have been the talk of the current news cycle and have created some friction within the GOP, appeared to heed Palin's advice shortly thereafter, appearing on Sean Hannity's Fox News program. Hannity, however, noticed that she had made the rounds on non-Fox affiliate networks earlier that day.
"Today alone, just this morning, you were on the "Today" show. You were on "Good Morning America." You were on the "Early Show". You were on CNN. You were on all those liberal shows?" Hannity asked O'Donnell. "[W]hy have you decided to subject yourself to the -- what I would argue probably biased, tough questions and obviously the advancement of some of the attacks against you?"
O'Donnell responded, telling Hannity that her choice to appear on supposedly less friendly networks was necessary in order to defy the narrative that the "liberal media" is supposedly creating about her.
"I found that when the viewers get a chance to meet me and hear me present my positions and my ideas, they can see for themselves that I am not the person that the liberal media is trying to paint me as," O'Donnell said. "So I see it as an opportunity. I'm going to have to face that same hostility in the U.S. Senate. They are no different than some of the people that I will be serving with this November."
Network news shows are hardly the most liberal forum that O'Donnell has found herself taking part in. In the 1990s, she appeared on "Politically Incorrect" with Bill Maher as "Christian activist Christine O'Donnell."
O'Donnell is also scheduled to appear Friday at the conservative Value Voters Summit in Washington D.C..
Watch Sarah Palin speak with Fox News's Bill O'Reilly:
Popular in the Community