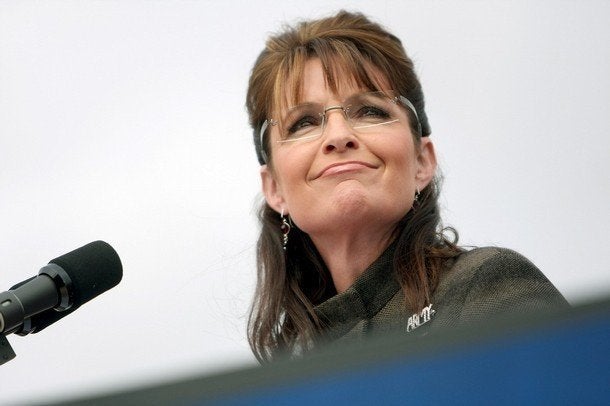 Alaska Governor Sarah Palin's administration increased its aerial wolf killing program this past weekend, which the group Defenders of Wildlife says violates current state regulations.
"While the media obsesses over Governor Palin's private family life, she is getting away with illegally slaughtering large numbers of wolves from the air," said Defenders Action Fund president Rodger Schlickeisen. "The governor is even encouraging the killing of wolves that reside and den mostly on federal land, which belongs to all of us, not just Alaskans. There is no biological emergency in Alaska that warrants such measures."
The program has also raised the ire of the National Parks Service, reports Politico:
"We're concerned that it would be difficult and potentially not possible for us to follow our mandates based on the state's action in the control area," Greg Dudgeon, the superintendent of hte Yukon-Charley Rivers National Preserve, told me just now.

Federal officials are worried there are "fewer wolves than what [the state] believes," he said.
Defenders of Wildlife filed suit on Wednesday against the administration because new regulations allowing the killing have yet to take effect, "making the current helicopter wolf killing program in the Upper Yukon/Tanana region illegal."
The Palin administration considerably escalated its aerial wolf killing spree this past weekend, with full details only becoming clear in the hours after the killing initiated. At least 58 wolves have been killed in the Upper Yukon/Tanana area of Alaska over the past 4 days by Alaska Department of Fish and Game (ADF&G) staff, which indicates that their target of approximately 250 wolves will be easily met.

The key ingredient is the decision by the governor and her appointed Alaska Board of Game to use helicopters as part of the state's wolf killing program in this region. The Board of Game approved the use of agency helicopters and personnel at its most recent meeting, which ended March 9, 2009, but those new regulations are not yet in effect, making the current helicopter wolf killing program in the Upper Yukon/Tanana region illegal. It is on these grounds that the board now faces a law suit, filed today by Defenders of Wildlife calling for an immediate injunction on the aerial wolf killing occurring in this area
A spokesman for Palin did not return calls for comment.
Popular in the Community