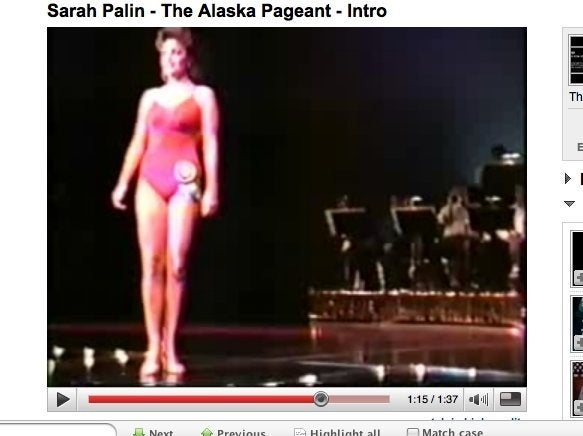 Sarah Palin's 1984 beauty pageant swimsuit competition video has hit the web. An Alaskan has uploaded what he claims to be 100% real footage of Sarah Palin in a red tank suit in the 1984 Miss Alaska contest. She walks out, does a 360, walks further, turns around again, and then walks off.
You can hear the announcer (over a jazzy trumpet) introduce her, read her bio and compliment her leadership, saying:
"Sarah says she wants to prepare for a career in television broadcasting by majoring in telecommunications and political science. It is no wonder that she has also been recognized by 'Who's Who?' since she has displayed her leadership in all areas, from academics to student politics to athletics... Ladies and gentlemen, contestant no. 8, Sarah Heath."
"The 100% legit footage of the 1984 Miss Alaska Pageant featuring Sarah Palin. If you think this clip is good, wait until you see her play her flute in the talent competition... ;)"
Popular in the Community