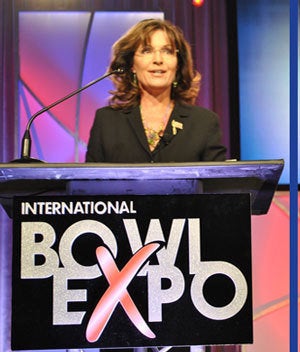 As you are no doubt well aware, sometime-Alaska Governor Sarah Palin has successfully leveraged her celebrity into a lucrative gig as a trade-show keynote speaker. It has not always gone well. In fact, at times, it's gone quite terribly. But this week, Palin appeared as the keynote speaker at the (hotly-anticipated) Bowling Proprietors' Association of America's International Bowl Expo 2010, and honestly, she seems to be getting better at it!
"Bowling has an honored place in our culture and is interwoven with our sense of community in our country. Go to any town or city and you will find bowling - it is truly a slice of Americana," said Palin.

"Bowling has been able to evolve, innovate and capitalize on changes in culture to keep alive and flourish. Through the entrepreneurial spirit of its proprietors, bowling has seen a new resurgence and has never been more popular."

During her keynote speech, Palin spoke of the societal influence of bowling that spans generations of American life. Professing a personal appreciation for the bowling industry, Palin also noted that, during his high school years, her father Chuck Heath Sr. worked as a pin boy and that she herself has fond childhood memories of watching him play in this Thursday night bowling league.
The reviews are much better than those that she received from the attendees of the Wine And Spirits Wholesalers of America's 67th Annual Convention and Exposition, which read: "Sarah Palin totally wiped my hard drive... I am seeing only a blue screen in my head... I forgot how to do math...a person is supposed be smarter coming out [of] an industry keynote."
That said, I thought this was a little awkward:
One question[er] asked her if she became president would she keep the bowling lane in the White House?

"Yes, I would," she said. "What an illustration of Americana where the president can go downstairs, blow off a little [steam] and bowl a few frames."
That's an illustration of Americana? Rich folks and their fancy private bowling alleys? That can stray into some uncomfortable territory:
Additionally, the appearance wasn't completely devoid of Palin's penchant for playing fast and loose with the facts:
Palin recalled her youth when her father set pins in Idaho. "My Dad was on a Thursday night bowling league," she said. "He bonded with his buddies. I have memories of that point of my life which mean very, very much to me."
As Andrew Sullivan notes, "Palin was three months old when she left Idaho." Maybe the bowling just left a really strong impression?
But the good news is that Palin managed to give a speech at a trade show without immediately angering everyone around her, so I guess she is the GOP's frontrunner for the presidential nomination now!
Calling all HuffPost superfans!
Sign up for membership to become a founding member and help shape HuffPost's next chapter