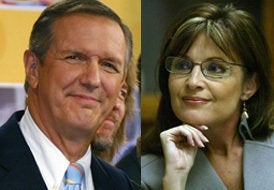 Below are excerpts from Sarah Palin's interview tonight with ABC's Charlie Gibson. Palin's comments on national security, the Bush Doctrine and considering war with Russia are included. Click here for more excerpts.

Palin on what it would take to invade Russia:
When Gibson said if under the NATO treaty, the United States would have to go to war if Russia again invaded Georgia, Palin responded: "Perhaps so. I mean, that is the agreement when you are a NATO ally, is if another country is attacked, you're going to be expected to be called upon and help.

"And we've got to keep an eye on Russia. For Russia to have exerted such pressure in terms of invading a smaller democratic country, unprovoked, is unacceptable," she told Gibson.

Palin asked about the Bush Doctrine... She doesn't know:
GIBSON: Do you agree with the Bush doctrine? PALIN: In what respect, Charlie? GIBSON: The Bush -- well, what do you -- what do you interpret it to be? PALIN: His world view. GIBSON: No, the Bush doctrine, enunciated September 2002, before the Iraq war. PALIN: I believe that what President Bush has attempted to do is rid this world of Islamic extremism, terrorists who are hell bent on destroying our nation. There have been blunders along the way, though. There have been mistakes made. And with new leadership, and that's the beauty of American elections, of course, and democracy, is with new leadership comes opportunity to do things better. GIBSON: The Bush doctrine, as I understand it, is that we have the right of anticipatory self-defense, that we have the right to a preemptive strike against any other country that we think is going to attack us. Do you agree with that?

PALIN: Charlie, if there is legitimate and enough intelligence that tells us that a strike is imminent against American people, we have every right to defend our country. In fact, the president has the obligation, the duty to defend.
Palin on her National Security Credentials... It's about "energy independence"
GIBSON: But this is not just reforming a government. This is also running a government on the huge international stage in a very dangerous world. When I asked John McCain about your national security credentials, he cited the fact that you have commanded the Alaskan National Guard and that Alaska is close to Russia. Are those sufficient credentials?

PALIN: But it is about reform of government and it's about putting government back on the side of the people, and that has much to do with foreign policy and national security issues Let me speak specifically about a credential that I do bring to this table, Charlie, and that's with the energy independence that I've been working on for these years as the governor of this state that produces nearly 20 percent of the U.S. domestic supply of energy, that I worked on as chairman of the Alaska Oil and Gas Conservation Commission, overseeing the oil and gas development in our state to produce more for the United States.

GIBSON: I know. I'm just saying that national security is a whole lot more than energy.

Popular in the Community