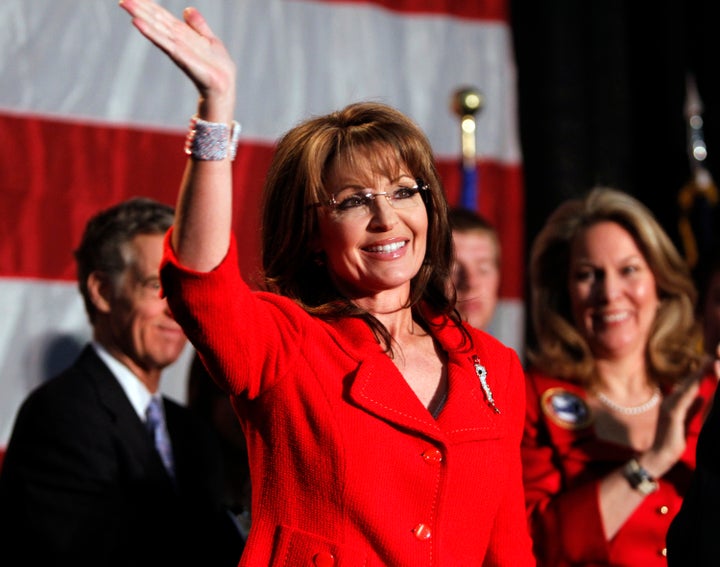 Thank you for your heart, your backbone and your good sense. You may wonder why a Floridian is so interested in the Governor of Alaska. It's because I hope that you are our next Vice-president. Talk about change that we can believe in!
So began an email from Stan Raley of Florida, sent on August 27, 2008, at 6:36 p.m.
In just a few hours, Raley's wish would be granted, and Governor Sarah Palin of Alaska would be the running mate of Senator John McCain. Palin's email activity over the next 48 hours -- culled from thousands of emails released into the wild today -- tell part of the story of those crazy days of the 2008 campaign season, where an obscure political figure from the second most distant state from Washington, D.C., would be selected for the biggest job of her life.
And while McCain's selection, over time, became described more as "reckless" than it was "daring," those first two days document the making of a bonafide political superstar.
Raley wasn't the only well-wisher who sent Palin emails expressing that their fondest hopes were that she become the Republican vice-presidential nominee. But prior to the announcement itself, few predicted it would happen. Frankly, few people even anticipated.
As I chatted up politically savvy observers at the 2008 Democratic National Convention, there was scant mention of the possibility that the then-obscure Palin would end up on the GOP ticket. One progressive research group at the convention had brought along briefing packets of opposition research covering what they believed to be every possible McCain running-mate. If my memory serves me correctly, Palin was not among them.
But as Raley sent his email, a plan had been hatched in Sedona, Ariz., and Palin was on her way to a formal announcement in Dayton, Ohio. The cloak-and-dagger exploits of Team McCain during this time are now fairly legendary, but it's worth pointing out that on the morning of the 28th, at 5:02 a.m., Palin's deputy communications director sent her an email with just a subject heading: "Are you still in AK?"
Over the next 24 hours, Palin's staff and closest confidants would learn the news, and in their missives to Palin, they expressed an unrestrained joy coupled with pure shock.
The offers of assistance were quick in coming. Karen Rehfield, one of the commissioners appointed to the state OMB, was the first:
Wow governor! Just watched you on TV! You knocked their socks off! You are simply incredible and make us all proud!

We are celebrating 27 years of marriage today! Congrats to you and Todd.

Will be an amazing 67 days! I will do whatever I can to help you...during this time!
Palin replied, "Can you believe it? He told me yesterday - it moved fast."
Deputy Legislative Director Mindy Rowland sent her own congratulations in the early afternoon, adding, "Tell Piper she did great and that her hairstyle looked really good on TV."
Material offers of assistance came in quickly that morning as well. Elan Frank of E'Lan Productions sent Palin a reminder:
Please remember I have great, in depth interviews with you that possibly could help you in your campaign (as well as great footage of your overall activities as a governor, wife, and mother, and even beautiful shots of you playing the flute by the window, with snow falling outside).
Perhaps the most touching note of congratulations came from Richard Benavides, the former television-news sports director turned political observer for whom Palin worked many years prior at KTUU:
If you actually get a chance to personally read this, let me say that no matter what happens in the upcoming election, we are all proud of you. I wish you luck.

I never thought that a person who was an intern for me and others at KTUU would become governor, much less a candidate for Vice President of-the United States! Just goes to show you what opening the doors on the third floor can lead to.

By the way, you don't mind if I keep telling people you were my intern, do you? I might just put that on my resume.
But it was Palin communications staffer Roseanne Hughes who perhaps captured the mood among her Alaska coterie the best:
All of Alaska is so proud of you. You hit that speech out of the ballpark - with only one hour to rehearse it? It was surreal for us as your staff to watch you on TV on stage with Sen. McCain...like an out of body experience.
During her first day as the Vice Presidential nominee, Palin had to keep up with state business while simultaneously making the rounds as the new VP pick. Palin was actually supposed to appear at a press availability that day with Sean Parnell. She offered to take a minute to call in, but her staff relieved her of responsibility.
At 11:12 that morning, Palin made formal note of her transition from governor to candidate by signing off on her "Statement To Alaskans":
It is the honor of my life to represent you as your Governor, and over the next two months I will continue to do so. As the mother of five, I know how to multi-task, and I will continue to promote the path of reform that we set out on together in the state of Alaska.

It is a great privilege to be John McCain's running mate and to be considered by the American people for the Vice Presidency. This honor is a testament to the reforms and progress we have made together in Alaska. Now is the time to take that spirit of reform to Washington.
At 1:31 in the afternoon, Palin's webpage experienced an "unscheduled service interruption" -- an understandable event, given the fact that every journalist, political figure and curious citizen were trying to find out more about this person they had just been told would be a media fixture for the next two months.
Palin received the news about the website, and responded, "Sorry!" What else could you say?
She soon heard back from staffer Kami Clark, who told her, "That's ok you go girl!!" She reassured Palin, "We have a huge group trying to resolve how popular your website is today."
By that evening, the experience that had been described as "out of body" suddenly became very corporeal, as Alaska Attorney General Talis Colberg enthusiastically told Palin in an evening email, "McCain Palin t-shirts are already selling and being worn in significant numbers at the state fair."
Throughout that first day, Palin replied to her well-wishers as best she could, often enthusing, "I love you!!" and telling her staff how grateful she was for the kind thoughts and thanking them for "holding down the fort" in her absence.
By the morning of the 30th, notes of congratulations were still rolling in. But the most significant email she received that day arrived in her inbox at 1:32 p.m.
That's when Palin was notified that Bill Kristol had written an article about her in the Weekly Standard titled "Let Palin Be Palin":
A spectre is haunting the liberal elites of New York and Washington--the spectre of a young, attractive, unapologetic conservatism, rising out of the American countryside, free of the taint (fair or unfair) of the Bush administration and the recent Republican Congress, able to invigorate a McCain administration and to govern beyond it.

That spectre has a name--Sarah Palin, the 44-year-old governor of Alaska chosen by John McCain on Friday to be his running mate. There she is: a working woman who's a proud wife and mother; a traditionalist in important matters who's broken through all kinds of barriers; a reformer who's a Republican; a challenger of a corrupt good-old-boy establishment who's a conservative; a successful woman whose life is unapologetically grounded in religious belief; a lady who's a leader.

So what we will see in the next days and weeks--what we have already seen in the hours after her nomination--is an effort by all the powers of the old liberalism, both in the Democratic party and the mainstream media, to exorcise this spectre. They will ridicule her and patronize her. They will distort her words and caricature her biography. They will appeal, sometimes explicitly, to anti-small town and anti-religious prejudice. All of this will be in the cause of trying to prevent the American people from arriving at their own judgment of Sarah Palin.
Today, if you're a die-hard Palin fan, you probably read Kristol's words and call them prophetic. If you're a Democrat, you probably point out that the forces of ridicule were aided immeasurably by Palin's many unforced errors and laugh about another Kristol prediction that didn't pan out precisely as he thought it would.
All the same, Palin would become a part of the political and media firmament.
By the way, it wasn't until Sunday, August 31, that Palin's staff finally managed to get her website up and running again. But it wouldn't be long before the name "Sarah Palin" would be enough to bring thousands of eyeballs to hundreds of websites on a permanent basis.