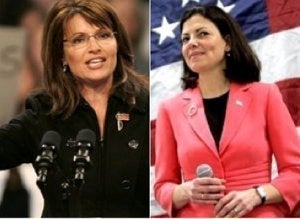 Sarah Palin's endorsement of Republican candidate Kelly Ayotte in the race for U.S. Senate in New Hampshire may have adversely affected the conservative contender's campaign.
A new survey from Public Policy Polling finds that Ayotte has experienced diminished support from moderate voters since the ex-Alaska Governor issued a statement of support for her candidacy.
An excerpt of analysis from PPP:
The Palin endorsement may well be playing a role in this. 51% of voters in the state say they're less likely to back a Palin endorsed candidate to only 26% who say that support would make them more inclined to vote for someone. Among moderates that widens to 65% who say a Palin endorsement would turn them off to 14% who it would make more supportive.
The polling organization notes that 47 percent of New Hampshire voters identify as moderates -- comprising the largest voting bloc in the state:
[Democratic candidate Paul] Hodes' lead with them has expanded from just 8 points at 47-39 in April to now 21 points at 51-30. Ayotte's favorability with them has gone from +5 at 32/27 to -19 at 27/46.
Popular in the Community