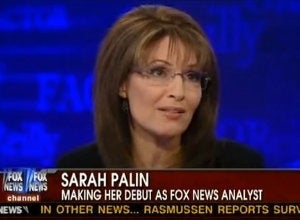 Sarah Palin's debut was a ratings hit for Fox News.
Palin's first appearance as an on-air analyst with the network, on Tuesday night's "O'Reilly Factor," drew 3.954 million total viewers — more than everything else on cable news in the 8PM hour combined. CNN's "Campbell Brown" placed second with 999,000 total viewers, MSNBC's "Countdown with Keith Olbermann" placed third with 906,000 total viewers, and HLN's "Nancy Grace" placed fourth with 704,000. It was also enough to beat ABC's primetime programs from 8:30-10:00.
Palin's analyst debut on "O'Reilly" drew more than her appearance on the "Factor" to promote her book in November, which averaged 3.868 million total viewers.
Palin's debut analyst appearance also drew 993,000 A25-54 viewers.
"Along the way, we'll talk to her and have conversations and I'm sure everything will be fine," Shine said about worries that Palin would make false assertions while on Fox News air. "In the end, that's probably going to help us in that that's what people will want to watch."

Popular in the Community