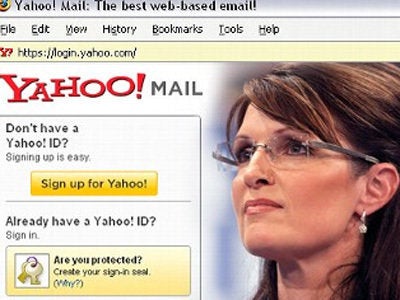 Lost in the hoopla surrounding the hacking of one of Gov. Sarah Palin's Yahoo! e-mail accounts are a couple of key points.
As first reported on HuffPo, the hacking incident gave Palin aides a convenient excuse to delete not one, but two of Palin's Yahoo accounts. After 27 year-old Palin assistant Ivy Frye was notified of the hacking on Wednesday morning, the compromised account (gov.palin@yahoo.com) vanished, along with the other private Yahoo account that Palin has acknowledged using for public business (gov.sarah@yahoo.com).
A public records lawsuit has been filed to release Palin's Yahoo! e-mail trail, which is thought to contain multiple e-mails pertinent to the Troopergate investigation into whether she abused her power as governor.
Also important is what exactly was leaked during the hacking.
Forget the screenshots of fairly innocuous e-mails, partial shots of Palin's inbox, two family photos, and her personal contact list. The most intriguing thing posted online was a cut-and-pasted, text-only inbox list showing subject headers, dates and senders of e-mails addressed to Palin at this account. The inbox list goes back to early August, almost a month before John McCain recklessly picked Palin as his VP.
On July 28, a bipartisan panel of Alaska legislators voted unanimously to hire an independent investigator to probe Palin and her staff over Troopergate, events set in motion by Palin's July 11 firing of DPS (Department of Public Safety) Commissioner Walt Monegan.
Top Palin aide Frank Bailey figures large in the Troopergate scandal. Bailey was placed on paid administrative leave by Palin on August 19 after an audio recording surfaced of a call Bailey had made in February pressuring Alaska state troopers to fire Palin's ex-brother-in-law Mike Wooten. Yet although on leave, Palin's inbox shows another two e-mails from Frank Bailey (using the e-mail address "ftb907@hslak.com") were received on Sept. 5.
Michael Nizich is Palin's chief of staff, and has also been implicated in and subpoenaed over Troopergate. On August 7, he sent an e-mail to Palin's Yahoo account with the subject line, "FW: CONFIDENTIAL Ethics Matter." The following week, on August 13, Palin held a press conference disclosing that in addition to Bailey's phone call in February, members of her staff had made about two dozen contacts with public safety officials about her ex-brother-in-law.
Palin at Aug. 13 press conference
Randall Ruaro serves as deputy chief of staff for Palin. On August 19, the same day Palin announced that Frank Bailey would be placed on paid leave, Ruaro sent an e-mail to her private Yahoo account titled, "FW: DPS Personnel and Budget Issues." The following day, he followed up with another e-mail, "FW: DPS Employee Draft."
At the very least, these leaked inbox glimpses all show Sarah Palin was using "gov.palin@yahoo.com" to conduct state business, which she had not previously disclosed, despite an ongoing public records lawsuit to release all e-mails related to her official duties.
She had admitted using "gov.sarah@yahoo.com" for official business, so why not reveal this second Yahoo account? If not for this week's hacking incident, it would have remained unknown to the world. Why the secrecy? Why try so hard to cover up your e-mail trail? What exactly is Gov. Palin trying to hide?
The irony is that as numerous observers have noted, relying on Yahoo! e-mail accounts instead of a proprietary, secure system means Palin's accounts have not been deleted forever. E-mail providers like Yahoo keep backups, and the e-mails could be retrieved under court order if subpoenaed as part of an investigation.
Since the McCain campaign is expending maximum effort trying to shut down the bipartisan investigation into Troopergate, one can only conclude that where there's smoke, there was probably a smoking gun or two somewhere in Palin's Yahoo e-mails.
(UPDATE 10/8 - David Kernell, 20, of Memphis, TN, was indicted yesterday on a single count of "intentionally accessing without authorization" Palin's Yahoo e-mail account. Kernell, who was arraigned today and pleaded not guilty, is the son of Tennessee state Rep. Mike Kernell, a Democratic state legislator.
But far from being a Democratic Party operative or even activist, Kernell appears to have allegedly hacked Palin's account for other reasons, describing the hacking as "just some prank to me" in a supposed first-hand account of the hacking incident. He is also a troubled individual who claims to have been hospitalized twice for depression.
"My name is David Kernell I am 15 a white cacasian male i live in memphis, TN. My favorite and only hobby is chess, more like an obsession. I am not afraid to say that i have acute depression and have been institutionalized twice, one at th age of 9 in Texas and one this past year. I have been strugleing with this for my entire life...")
Erik Ose is a veteran of Democratic campaigns in North Carolina and blogs at The Latest Outrage.
Calling all HuffPost superfans!
Sign up for membership to become a founding member and help shape HuffPost's next chapter