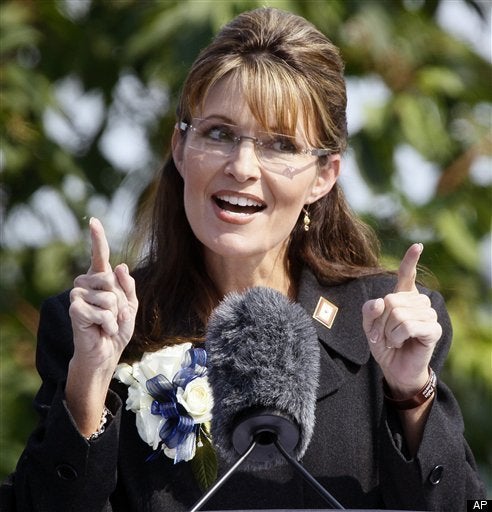 Earlier this summer, when Sarah Palin announced her early retirement from the gubernatorial post in Alaska, there was, naturally, a lot of speculation about why she'd quit us -- and even more about what she might do next. "Only dead fish go with the flow", she declared in her inscrutable farewell speech, which is all well and good, but still leaves a lot of room for interpretation about what might come next. A presidential run? Radio talk show? A yearning for the lower 48? Fishing?
Today brought some insight into, if not what you could call "a plan", at least a sense of how she'll be filling her datebook. First up, Palin will be traveling to Hong Kong to deliver a speech at the CLSA Investors Forum, an annual conference of global investment managers. Bill Clinton, Al Gore and Alan Greenspan have all spoken here before. What Palin will bring to the table is, as yet, unclear. According to the AP report, "the topic has not yet been confirmed."
This is Palin's first commercial speaking engagement. Though in all likelihood it's not her last, as Politico reported on Monday that she has begun to work her way through some 1,070 odd invitations for paid speaking engagements and political appearances. The paid speeches are going for six figures, though Palin has yet to commit to any besides the aforementioned Asian trip.
Lastly, the AP reports that according to Palin's father, Palin is hard at work on her book -- and the glimpse he offers foreshadows what could be heavy reading.
Heath [Palin's father] told the Spokesman-Review he frequently gets e-mails from her seeking trivial information for her book - like how many points she scored in a basketball game or when the family attended the Boston Marathon.
REAL LIFE. REAL NEWS. REAL VOICES.
Help us tell more of the stories that matter from voices that too often remain unheard.