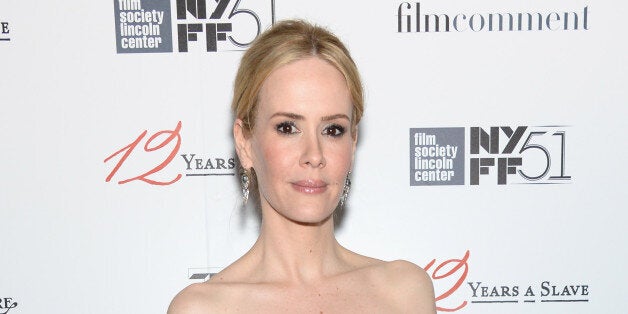 Chiwetel Ejiofor, Michael Fassbender and newcomer Lupita Nyong'o have received most of the praise surrounding Steve McQueen's "12 Years A Slave," but don't forget Sarah Paulson: As the onscreen wife of Fassbender's evil slave owner, Paulson perpetrates some of the film's worst moments of violence, both emotional and physical, but never devolves into one-note parody.
"Credit has to be given to Steve," Paulson, who stars on "American Horror Story," said in an interview with HuffPost Entertainment. "My actor friends and I always sit and talk about how you're only as good as the role you're given, in terms of what you're able to show. You're at the mercy of filmmakers who want to put you in their movies. I feel very grateful to Steve McQueen for doing it, and I hope he puts me in every movie he ever does."
Before the Oct. 18 release of "12 Years A Slave," Paulson spoke to HuffPost Entertainment about the difficult challenge of bringing her character to life and what she thinks about the film's deafening Oscar buzz.
How did you go about trying to create a character here that wasn't a cliched villain? I think the only way to do it, for me, was to try and figure out the "why" of her behavior. The idea of playing someone who is just evil to be evil seemed really boring to me and not realistic. Because nobody does anything for no reason. It may not be one I agree with or one that makes sense to me, but there will be reason. What I really came up with was that she's a product of her time. She was probably raised by ignorant and racist people, and I don't think she's of a complicated enough nature -- or self-aware enough nature -- to challenge what she's been taught. I think she just decided what she was taught is the right and true way, which many people in this country, and this world, sort of live by. Then, you add into that the reality that she's deeply, deeply, deeply jealous, because her husband is in love with another woman right under her nose, in her own home. It's humiliating. So when you're dealing with a person who's not very self-aware, who was raised by racists, who is not a deep woman, and who deals with surface feelings and emotions and appearances, then you might behave the way she behaves. That's how I could get into it. Otherwise it was too hard to muscle my way. I'm interested in who the human being is. Because of his feelings for Patsey, Michael had more of an opportunity to show things in a clearer way. I had more of a limited time to make sure the layers of what was going on inside of me were present -- at least in my face, even if I didn't have the lines.
What kind of direction did Steve give you for the character? Steve said two things to me that were very important. Some of it I came up with on my own, and the other part of it was that he said to me that he wanted me to think about her as a porcelain doll. As a figurine on top of a cake. Those are two images that are very strong. Their faces are frozen. What you see is what you get with those images, and there is a kind of regal quality to them. They're dainty and yet unbreakable, yet also breakable. There were all these things that went into my brain. Once I put the corset on and skirts. He would always be like, "Chin up, chin up, chin up." She just looks down her nose at everything, and anything she would look at too directly would make her have to deal with herself, which she's not interested in doing.
What did you learn about slavery by doing this film that surprised you? I think it was something Lupita Nyong'o has said before. The chapter on slavery is very small in the book of American history. It's not something where I can say I retained every drop of information I learned. So the whole thing was an education for me, in a sense. I think I had not remembered, or maybe wasn't even aware of the fact, that there were free men who were captured and sold into slavery. That was something that happened. Also just the story of Solomon Northup. I didn't know this story at all. My hope would be that like "The Diary of Anne Frank," it would become part of the required curriculum in school. Because it's hard to take in the weight of everything when you're learning about the facts and figures. When you follow one man's journey with it, I think it's impossible to turn away, and I also think you can hold the gravity of the situation in a different way.
What was it like the first time you saw the finished film? It was hard, because I saw it for the first time at the Toronto International Film Festival. So that was both wonderful and extraordinary, but also horrible. Because the end of the movie is so beautiful and moving to me, I wanted to go into the bathroom and have an ugly cry by myself. Not a nice cry. A full-on cry fest. I couldn't, though, because right when the lights came up, they came to pick up all the people from Fox Searchlight for a Q&A. It was just a very disorienting thing: to take that movie in for the first time and then have to do the princess wave to the audience. It was a bizarre thing.
That's less than ideal. But I also just felt this extraordinary sense of pride. I felt honored and so lucky to be a part of this. I feel like this movie will go down in the books as one of the great movies of all time, and one of the great movies about this subject matter. That, to me, is a rare gem, and I know that it's rare, and it's not lost on me how rare it is. This is Lupita's first movie. Think about where she goes from here. It's like, "Come on, lady, you've got like 10 movies in your future that are not going to be as good as this, no matter how good they are. Just so you know. Then you'll have another great one."
There's so much Oscar buzz surrounding this film. Have you given thought to what it would be like to star in a Best Picture winner? To me it would be wonderful, but I can't even think about that. It would be amazing, but it's already been so amazing. I sort of feel like we won: We got to make the movie and it ended up being just what Steve McQueen wanted it to be. I'm so proud to be a part of this. It's like, "I'm in '12 Years A Slave,' what are you in? Yeah, sorry, sucker. I'm in '12 Years A Slave.' I may play a deplorable person, but I'm in the movie. Sorry!"
This interview has been edited and condensed.
PHOTO GALLERY
'12 Years A Slave' Photos
Calling all HuffPost superfans!
Sign up for membership to become a founding member and help shape HuffPost's next chapter