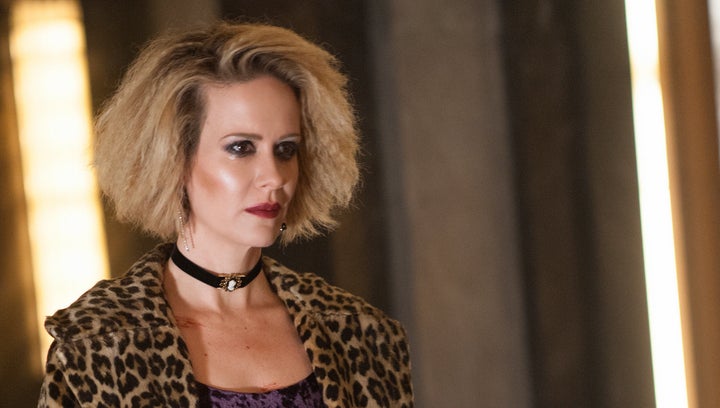 Warning: Spoiler alert if you're not caught up with "American Horror Story: Hotel."
"American Horror Story: Hotel," the current iteration of FX's hit anthology series, apparently has yet another connection to "Murder House," the show's first season. 
According to Entertainment Weekly, Sarah Paulson will reprise her Season 1 role as psychic Billie Dean Howard in the finale of "Hotel." Howard appeared in just three episodes of "Murder House," mostly as a friend to Jessica Lange's aging actress Constance. In "Hotel," it will be revealed that she stars in a reality show about her psychic powers. Perhaps she'll have an on-air visit to Hotel Cortez?
It was already made clear that the two seasons existed in the same world. In Episode 6 of "Hotel," it was revealed that Lady Gaga's character, The Countess, had an illegal abortion at the titular "murder house" from Season 1.
So far this season, Paulson has been playing the volatile, heroin-addicted Hypodermic Sally, who haunts the Hotel Cortez after being thrown from one of the hotel's windows in 1994.
It's unclear, at this point, whether there's any familial connection between Sally and Howard that might explain their similar looks. Paulson's co-star Finn Wittrock has also played two roles this season on "AHS," as the male model Tristan and the film actor Rudolph Valentino. Though they are not specifically said to be related, The Countess notes their resemblance. 
Paulson, like Evan Peters, has appeared in every season of "American Horror Story" so far. She's also been in the news recently for her strong supporting performance in Todd Haynes' Golden Globe-nominated movie "Carol."
PHOTO GALLERY
"American Horror Story"
REAL LIFE. REAL NEWS. REAL VOICES.
Help us tell more of the stories that matter from voices that too often remain unheard.