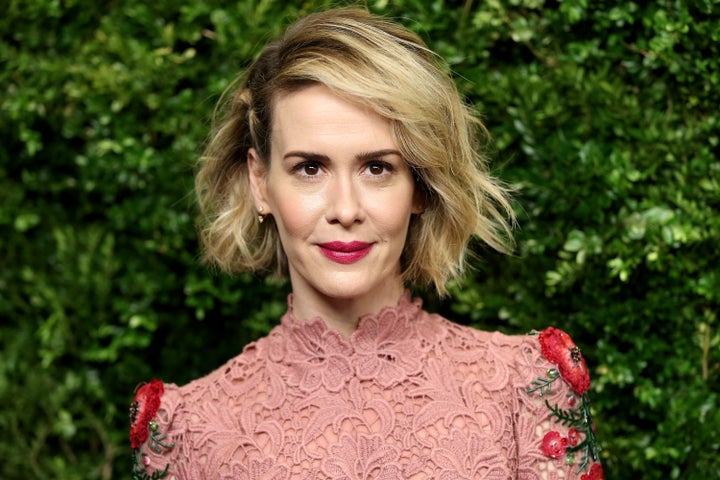 Sarah Paulson won't be labeling her sexuality anytime soon, and she doesn't care what you think. 
In a remarkably candid PrideSource interview, the "American Horror Story" star opens up about having dated both men and women. Paulson, 40, said she understands why refusing "to give any kind of label just to satisfy what people need" can be problematic, but nonetheless sees it as a way to be true to her authentic self. 
 "All I can say is, I've done both, and I don't let either experience define me," Paulson told PrideSource's Chris Azzopardi. "I don't let having been with a man make me think I am heterosexual, or make me want to call myself that, because I know I have been attracted to women -- and have lived with women. So, for me, I'm not looking to define myself, and I'm sorry if that is something that is seen as a rejection of or an unwillingness to embrace [my sexuality] in a public way, but it's simply not. It's simply what's true for me, and that's all I can speak to." 
Like many celebrities and public figures, the actress says she's felt pressure from within the lesbian, gay, bisexual and transgender (LGBT) community to be an activist, but clarified, "My reality is different than your reality." 
"I can meet a man tomorrow and fall in love with him and marry him and I wouldn't discount any of the experiences that I've had with women, or vice versa," she said. "I just don't think anyone is in a position to dictate what that is for me."
Paulson, who split from Jones in 2009, now describes that moment as "accidental," and added, "If it happened to me today, I don't know what I would do necessarily. I really don't. I think what I'd like to think is that I would just be who I am and whomever I was with, if I had won an award or they had won award or if it was some kind of public thing, I would not do what I would do simply because I was afraid of being revealed." 
Paulson came to her co-star's defense, arguing that Blanchett is the victim of a double-standard in the media. 
"Is anyone asking George Clooney what he likes about having sex with a woman? Nobody does," she said. "But you have a story about two women together or two men together and all of a sudden it becomes fair game and assumptions are made that are just never made in the reverse, and I just think it's terribly unfair."
PHOTO GALLERY
28 Bisexual Celebrities
Calling all HuffPost superfans!
Sign up for membership to become a founding member and help shape HuffPost's next chapter