At Koplin Del Rio Gallery in Los Angeles, Sarah Perry is showing a selection of freestanding and wall-mounted works that are fabricated from a diverse array of objects, including musical instruments, animal parts and bones. Fastidious in her methods and impressively imaginative in her hybridizations, Perry's newest works deal with her intuitive realizations about the collisions and overlaps between humankind and other creatures. The works embody Perry's empathetic connections, her intuitions and also her fears for the world.
John Seed Interviews Sarah Perry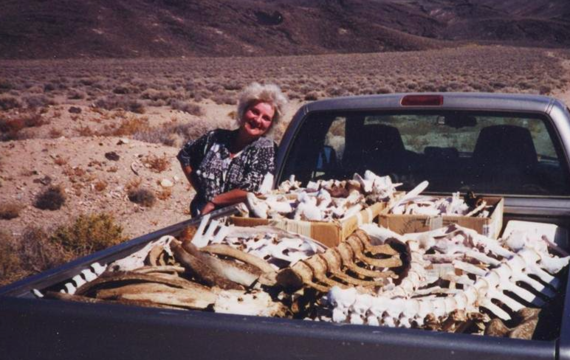 How did you hit on the idea of Within the Walls as a theme and/or metaphor?
Whenever I begin a new body of work, a core theme or two emerges based on what I'm thinking about at the time. It isn't a conscious decision and usually I can only see it after a group of sculptures are completed. The seed for Within the Walls was planted when I returned to an abandoned house off the 14 freeway.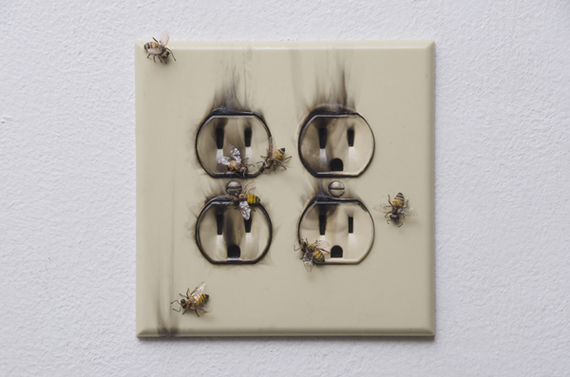 Where There's Smoke, 2015
Handmade bees, outlet, smoke, mixed media, 5.5 x 5.25 x .75 inches
I had been there several times over the years, collecting owl cough balls for their tiny bones. This time, a few years had lapsed and the place was folding in on itself. One white carpeted room remained intact. The ceiling, walls and floor were covered with long, graceful arcs of crimson blood. Within the walls I could hear a massive bee hive. You could smell the honey. Something 'else' had taken hold.

I'm drawn to what is implied, hidden beneath the surface yet full of significance- oblique warnings from the unconscious; the smoldering wall socket harboring bees, a snake/braid pouring from the faucet, the legs of an obscured spider turning the light switch.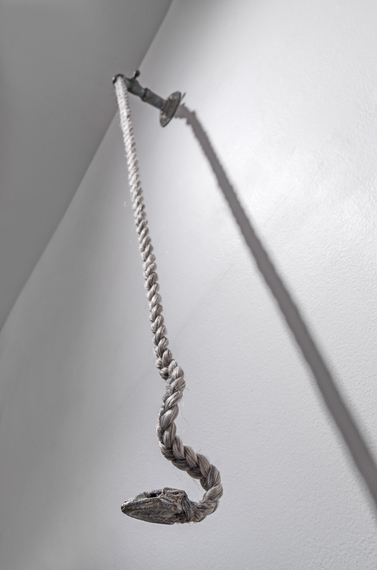 Eve, 2014
Faux hair, lizard, glass eyes, spigot, mixed media, 40.5 x 3.5 x 7 inches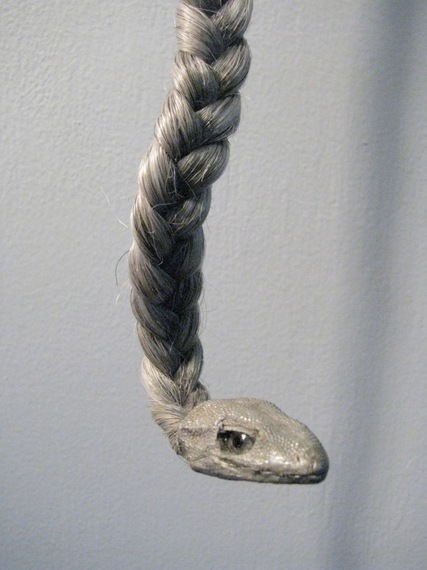 What role did your move to Tehachapi play in generating these works?
The quiet and beauty has enabled me to be happier which helps my work.

I can't think of any artist who uses found objects and items more originally or seamlessly. Is your workshop jammed to the rafters with collections of things?
That would be an understatement! When we moved we had over 600 boxes and large plastic bins of inventory. I am systematically covering the fence surrounding the yard with steel circles, pitchforks, old scythes and the ubiquitous horn section- all grouped so very specific objects can be found. I need a large selection to draw from as the component parts of a sculpture must fit exactly- sometimes to within 1/64th of an inch. Part of my studio is used for storing delicate collections, like insect wings and lizard skeletons. Even the hallway in the house is lined with floor to ceiling shelves. And we have 11 acres...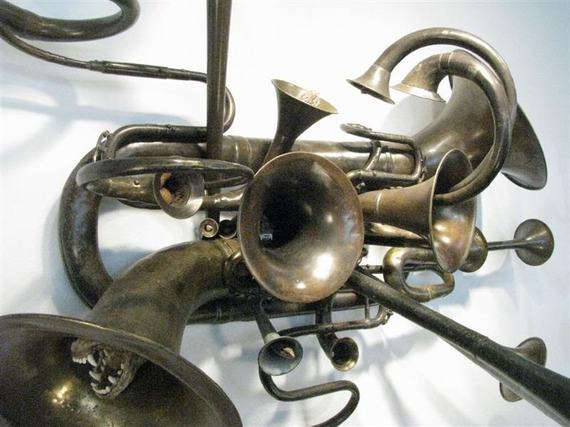 Times Up, 2015
Vintage brass instruments, found animal parts
Is your current work more about nature, or about human nature, or about both?
It is surely both in that we are one of nature's experiments. I see humans as not just part of nature; we and all of our culture are a manifestation of nature.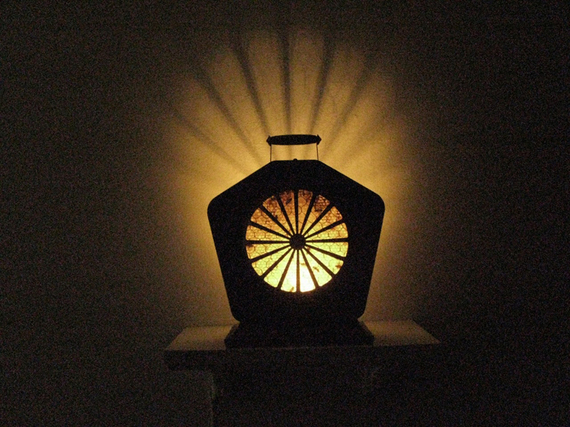 I, For One, Will Welcome our Insect Overlords, 2015
Heater, starter cone, electric fixtures, fabricated bees, 13.5 x 11.5 x 8 inches
Tell me about I, For One, Will Welcome Our Insect Overlords.
It's a humorous and somewhat disturbing reference to an H.G.Wells story where giant ants enslave the human race.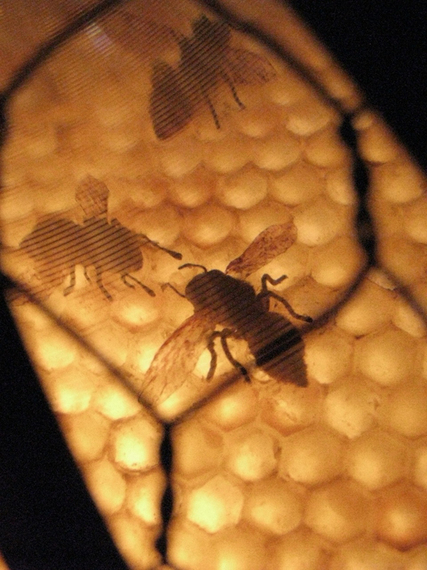 I, For One, Will Welcome Our Insect Overlords (detail)
(...Off in the corner of your room, your peripheral vision detects a movement- something in your forgotten little heater. Bees have moved in while you weren't looking...)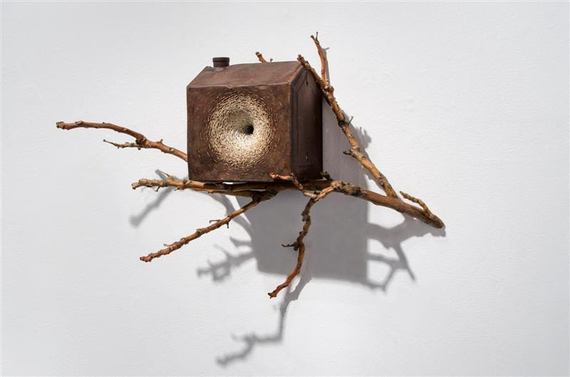 Take Me Home, 2012
18 x 25 x 9.5 inches, tiny bones, Tree of Heaven branch, steel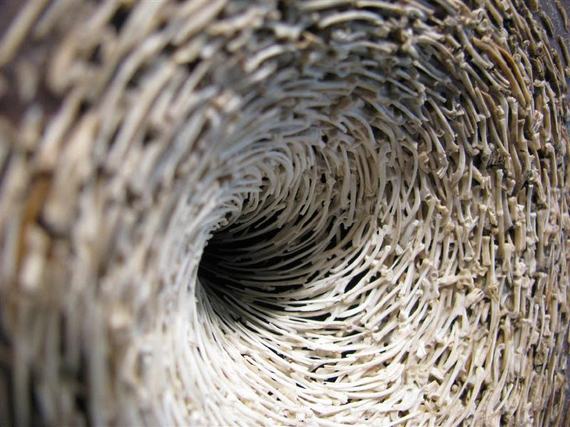 Should this show make viewers want to laugh or cry?
I hope it does both. Some pieces are mostly humorous while others are about very difficult subjects. The titles allude to the meanings as in - Fear of Empathy, Becoming Nothing, Hot and Old and Wigglesworth, Phase 1. But there are other ideas as well such as forgiveness, the endurance of spirit, the gift of love and the end of the world. I would like the pieces to be as varied as life.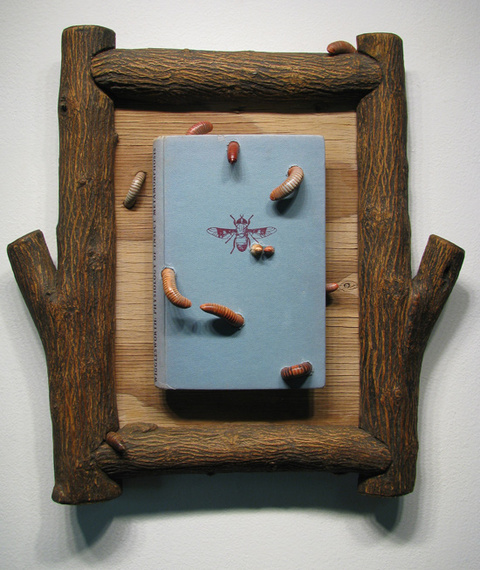 Wigglesworth, Phase I, 2013
Branch, wood, vintage book, millipede husks, mixed media, 16.5 x 16.5 x 3 inches
What do you do when you're not making art?
My day begins with feeding wild animals. The ravens are waiting, looking in the bedroom window. The roadrunners are at the door, the tub needs more water for the elk and mule deer, and so it goes. At some point, I am surprised by something marvelous. Every single day. The low sun illuminating the spent grass takes my breath away and I am lifted into a numinous world. And I love to read good literature. And music is very important. And then there is decorating with stings of colored lights. There can never be too many colored lights.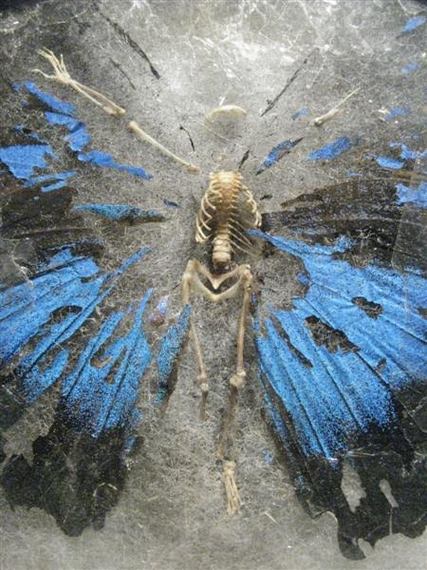 Becoming Everything, 2015
Decomposed butterfly, tiny bones, mica, mixed media, 6.75 x 8. 75 x 1 inches
What do you care about most?
The state of the world, where we are going and who we're taking down with us.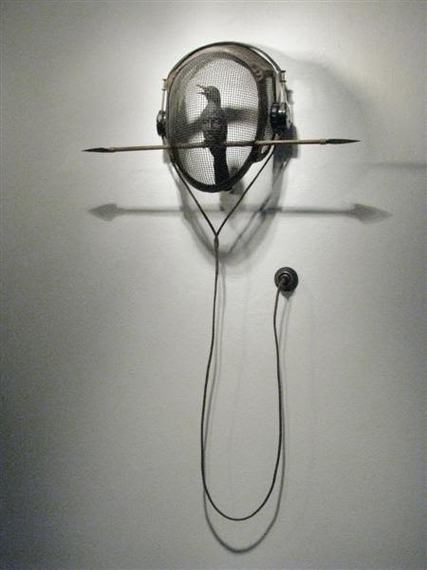 Behind your Eyes, 2014
fencing mask, ear phones, Sculpy, mixed media, 34 x 18.5 x 6.5 inches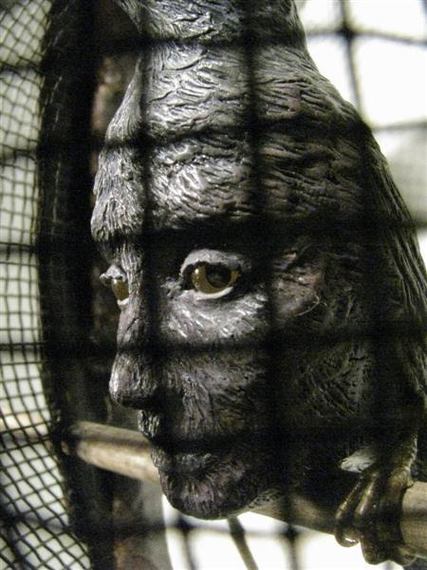 Behind your Eyes (Detail)
Do you have any good stories about what it's like to live where you live?
Sometimes my choice of materials can be a little dicey. We had just moved here and I unpacked a bomb casing that I had gotten at a yard sale. It was pretty heavy, over a foot long and made Ed a tad nervous. So I decided to check and make sure it wasn't live. I brought it to the local gun store where I buy chemicals. They didn't know but sent me across the street to the police station. I went in there and pulled it out of my purse to ask if they knew anything about it. Whoa! Everybody backed up. The police chief took it to the parking lot, cordoned off the street and called the bomb squad. It wasn't live, but I felt a little awkward anyway. Unfortunately it turned out that the police chief was our new neighbor.

My favorite story might be what it's like to tame a bobcat enough to look into it's fathomless eyes. But that's for another time...
Sarah Perry: Within the Walls
September 12 - October 23rd, 2015
Koplin Del Rio
6031 Washington Blvd Culver City, CA 90232
Gallery Hours: Wednesday - Saturday: 11:00 am - 6:00 pm; Tuesday by appointment
Related
Popular in the Community