Having such a small amount of confidence and not having teachers who truly, genuinely believe in you can really interfere with your education. Students have to have life lessons to help them survive in the world.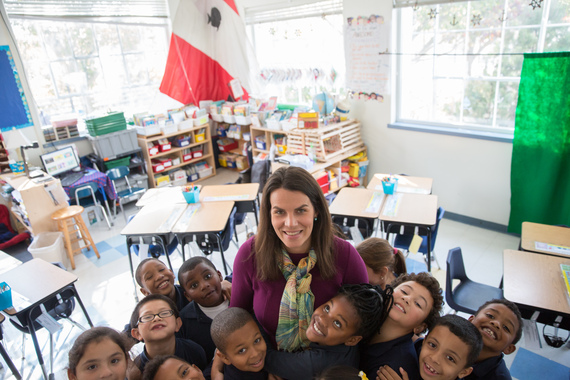 Laying the foundation.

"I became a teacher because I was a struggling learner. I needed to hear things at least three times for them to really click. Back then, there wasn't a lot of differentiated learning -- certainly not a lot of technology or blended learning -- and I was often put in the back of the room. I remember being in the principal's office after getting a 20 on a test I'd studied so hard for but not being able to articulate why I'd gotten that score. Nobody could really figure me out. Having such a small amount of confidence and not having teachers who truly, genuinely believe in you can really interfere with your education.
We recently worked on professional development at my school and had a couple tough questions we had to answer with the other teachers. Everyone spoke about what it was like to answer those questions, but I spoke about how answering those questions -- because some of the answers were so tough to put into words -- made me think back to what it's like for our students when they can't figure out how to express themselves. It's in their head, but they don't know how to tell us.
Now I explain to my students that we all learn differently. When something is hard for them, I'm not necessarily having them master it right now. I tell them I used to cry during my math homework because I didn't understand how to do it. They're in second grade to learn, and I don't expect them to master the material the day that I introduce it. They have the whole year to build that foundation. It's about connecting with them and letting them understand that I'm the same way."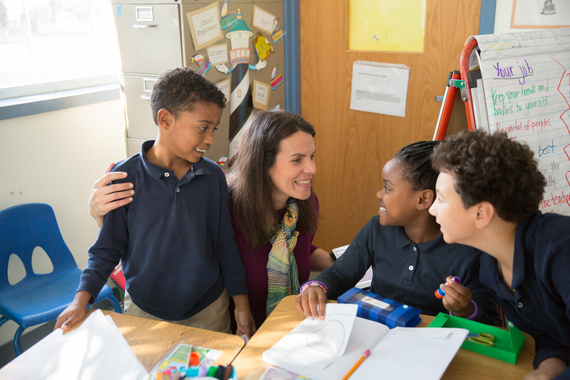 Creating a school from scratch.

"I had been teaching for two years in California and was eager to come home to the East Coast when I heard that the American Sailing Institute was funding a new maritime-focused charter school for inner-city children in Providence. Having sailed my whole life, I liked the idea of helping children have more of an interest in the ocean and sciences. So I moved back East to help start it, with four grades in two different buildings. I remember when a truck pulled up with all the furniture, and we had to move everything in ourselves. I thought, 'What have I gotten myself into?' Everything -- every piece of paper -- had to be created. Just like a child's education, we started with a very small foundation and had to build our way up.
We've been open for 14 years now, and you can fill a whole gym with all the teachers that work here - every one of them is amazing and dedicated. We have 780 students, and I'd say that every single child feels loved, appreciated, and challenged."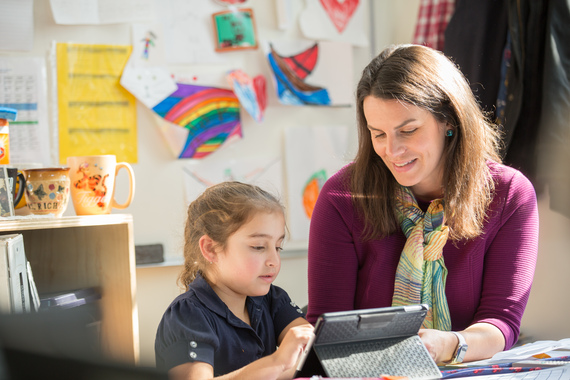 Piecing together community in the classroom.

"If you don't have the teacher, student, and parent, then you're missing a huge piece of the puzzle. I go above and beyond to make the parents feel comfortable and make myself available to them. I text or email with most of them and don't hesitate to have the kids call. If they're doing something great in class, I'll say, 'Oh my gosh, your reading has improved so much. Let's call Mom and Dad right now.' It's great to have them hear their child saying, 'I just did this really well and Ms. Rich is proud of me.' That helps bring our community together in the classroom.
But teachers and administrators are the other pieces to the puzzle. Now that there are so many more standards and grading systems for teachers, holding them accountable is great -- but the foundation needs more work. Frequently, teachers aren't coming out of college with the tools and support they need. We're always growing and learning, but during those first five years of teaching, you need a group that helps you. Teachers need to be collaborating with each other. We may teach entirely differently, but if we have a core group at our own grade levels, we can really teach together and feed off each other in a better way.
A few years ago I joined the FUSE RI technology fellowship, working with other teachers to integrate blended learning into many of the schools throughout Rhode Island. To jump into something I'm really passionate about has been really exciting. I want to help teachers who are not comfortable with technology -- or maybe have it stereotyped in a different way -- understand what resources are out there and what it can do for their students."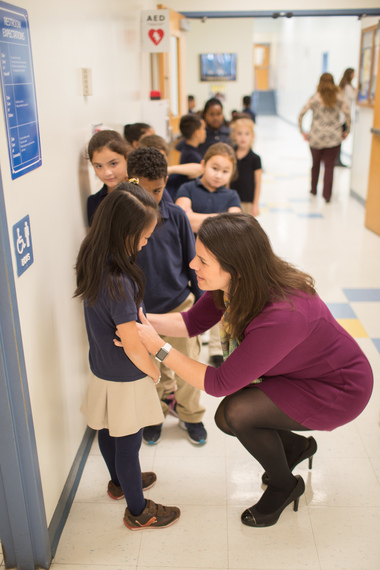 An extension to the world.

"Even though we live in the Ocean State, some of my students have never been to the ocean. When we go on our seal watch field trip, they're blown away just going over the bridge when they can see the water underneath them. I worry about their life circumstances and the stress that can come with living in poverty. That part really scares me: how to continue to help them beyond the classroom even though I'm not always there. I want to make sure that I can be an extension to them so that if they need something, they can have it and be successful.
One of my goals is for them to be able to hold their own in a conversation outside school -- at the dinner table, on a bus, or at the park -- where they can talk about what's going on in the world. Young children see and appreciate things that adults take for granted each day. I want them to be able to jump in and contribute to a topic they already know something about, that maybe a normal second grader wouldn't be able to contribute to.
Technology allows me to help them grow more curious and bring them to all these places they may not have a chance to visit. We'll Skype with my friends who are studying ice forms in Nepal. When we were studying equality, I used an article on why Easy-Bake ovens are only pink. I wonder how things like that fit into Common Core standards, but I want my students to think, 'Why aren't they making Easy-Bake ovens for boys?' or 'Is pink only a girl's color?' At the same time, I make sure we still do the traditional things kids need, like read-alouds and playing outside. My class raises horseshoe crabs, so the kids are exploring marshes and building tide pools.
They have to have these life lessons to help them survive in the world. I don't ever want to teach to the tests. It's good to use standards as a guide, but at the same time, there has to be a balance of other things. I wouldn't be confident in saying that every child is going to survive in the world if they've mastered the Common Core standards. There are more pieces to it than that."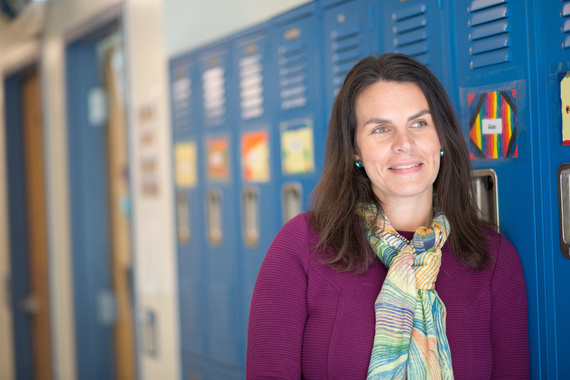 Calling all HuffPost superfans!
Sign up for membership to become a founding member and help shape HuffPost's next chapter