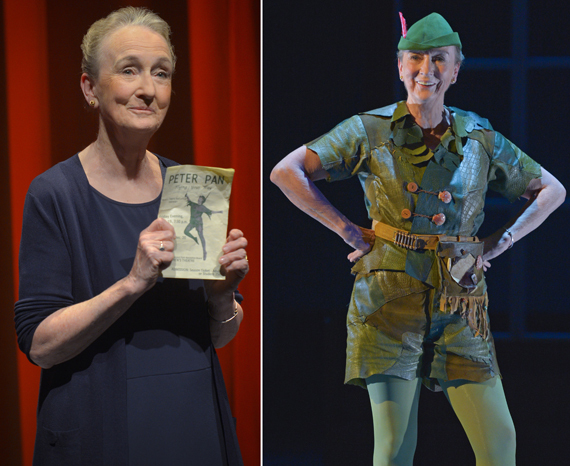 Kathleen Chalfant in a dual role, remembering and playing Peter Pan
Peter Pan is ageless, as anyone who has ever seen or read J.M. Barrie's classic knows. In countless treatments on stage, in movies, on TV and between covers he's an adventurous boy -- though invariably played by a girl or woman -- who refuses to grow up.
But boys must grow up and so must girls unless fate intervenes, as it did for Barrie's older brother. He died in an ice-skating accident at the age of 13, before he could outgrow the innocence of childhood.
For the rest of us, as the oft-honored playwright Sarah Ruhl explores in For Peter Pan on Her 70th Birthday, the process of aging and the inevitability of death can't be escaped. The drama is receiving its West Coast premiere in Berkeley Rep's Roda Theatre.
Aging, mortality and reflections on years past have obviously inspired a profusion of approaches in every dramatic medium, with varying levels of success. Given Ruhl's track record as the creator of such fresh and moving dramas as Eurydice and Passion Play, it was reasonable to expect more from her latest work. Since a text has yet to be published, it's likely that For Peter Pan is a work in progress.
Ruhl opens and closes the 90-minute production with glimpses at a traditional Peter Pan, in very different aspects of memory. The first is a nostalgic monologue, delivered with subtle poignancy by Tony nominee Kathleen Chalfant, standing in front of closed red curtains. With a frayed copy of a visibly old program in hand, she tells of the life-changing joy of playing Peter in a children's theater in Davenport, Iowa, some six decades earlier. In the play's final moments, Chalfant fearlessly soars once more -- yes she does, even at the age of 71! -- in the feathered cap and green tights that have long defined the role.
Between those bookends, though, the tale sags almost as often as it soars.
Chalfant plays Ann, the oldest of five siblings who gather at the hospital bedside of their dying father and, after his passing, at a sort of Irish wake where the circumstances and a steady flow of Jameson's whisky guide the conversation from amiable reminiscence to fiery disputes. Aside from a questionable thread that finds each of them attempting to recount the moment when he or she reached adulthood, the interplay takes no fresh directions and offers little insight into character.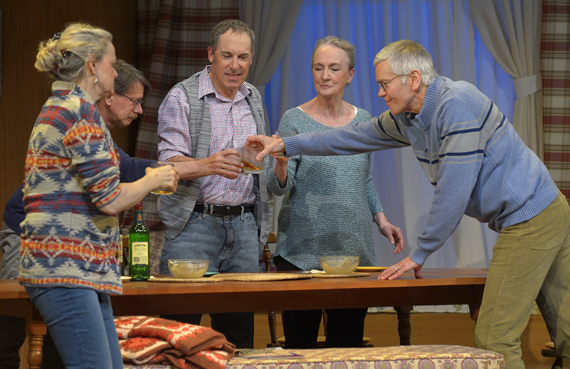 Sharing nostalgia and Irish whisky: From left, Ellen McLaughlin, Keith Reddin, David Chandler, Kathleen Chalfant and Charles Shaw Robinson.
Boozy arguments over religion and politics may reflect reality in many gatherings, but reality doesn't necessarily make compelling theater.
Besides Chalfant's Ann, the squabblers include Charles Shaw Robinson as John, Keith Reddin as Michael, David Chandler as Jim and Ellen McLaughlin as Wendy. The character names, as you may recall, match those of the Darling children in the original Peter Pan.
None of them is as memorable as the family patriarch, George, wonderfully played by Ron Crawford. Whether he's lying almost comatose in the hospital or wandering slowly around the house during the wake, unseen by all, Crawford shapes a distinct and likable character without uttering a word. He also draws the show's biggest laugh via bit of clever stagecraft that demonstrates how vividly George remains a part the family. At times he's accompanied by another spirit from productions past, presumably the ghost of the Darlings' Nana, invoked by a beautiful Saint Bernard called Yodel.
Just when the tedium of banal bickering seems endless, Ruhl, director Les Waters and Berkeley Rep's technical staff rescue the proceedings by leaping into fantasy. Ann dreams; siblings metamorphose into Peter, Wendy, Captain Hook and the Darling boys of old; the Peter Pan of a never-forgotten children's show springs to life, without illusionistic staging.
Straps and cables that carry geriatric "youngsters" aloft are conspicuous, as are the rehearsed stumbles and groans of older actors in athletic endeavors; inventive liveliness fills the Roda stage. On top of that, Crawford returns to offer a paternally supportive and poignant gesture, giving Chalfant/Ann/Peter good reason to exit aloft, crowing.
It's a solid conclusion for a three-scene play that starts well, droops in its center, then closes on bright and affecting notes. With luck and her demonstrated skill, Ruhl should find a way to overcome the rough spots.

For Peter Pan on Her 70th Birthday runs through July 3 in Berkeley Repertory Theatre's Roda Theatre, 2015 Addison Ave., Berkeley. Tickets are $29-$89, from 510-647-2949 or berkeleyrep.org
REAL LIFE. REAL NEWS. REAL VOICES.
Help us tell more of the stories that matter from voices that too often remain unheard.