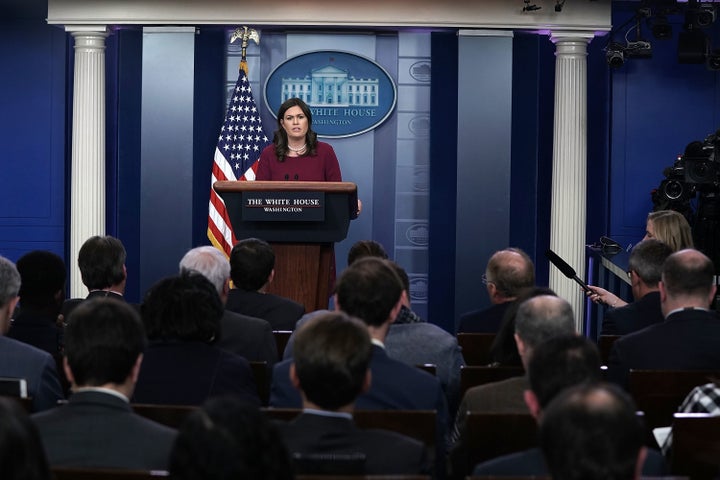 White House press secretary Sarah Huckabee Sanders evaded reporters' questions Tuesday about what the president is doing to address Russian meddling in the 2016 elections.
A federal grand jury empaneled by special counsel Robert Mueller indicted 13 Russians and three Russian entities Friday, and it provided evidence that foreign nationals interfered in the 2016 election and boosted the candidacy of President Donald Trump.
Sanders said Tuesday that the president had repeatedly "acknowledged" the meddling took place but asserted that "it didn't have an impact" and that the Trump campaign did not aid Russia in its covert operation.
But asked why the Trump administration has refused to impose the sanctions against Russia that Congress had passed, the press secretary answered indirectly: "Well, there's a process that has to take place, and we're going through that process."
The Trump administration said in January that it would not immediately impose additional sanctions on Russia, even after Congress almost unanimously passed a measure last year designed to punish Moscow's meddling in the 2016 U.S. election. The administration insisted that the legislation was already working by "deterring Russian defense sales," making additional action on Trump's part unnecessary.
Critics have questioned the administration's logic.
"The State Department claims that the mere threat of sanctions will deter Russia's aggressive behavior. How do you deter an attack that happened two years ago, and another that's already underway? It just doesn't make sense," Rep. Eliot Engel (D-N.Y.), the top Democrat on the House Foreign Affairs Committee, told Reuters in January.
Trump "has been tougher on Russia in the first year than Obama was in eight years combined," Sanders said, adding that the president has done "a number of things ... to be tough on Russia."