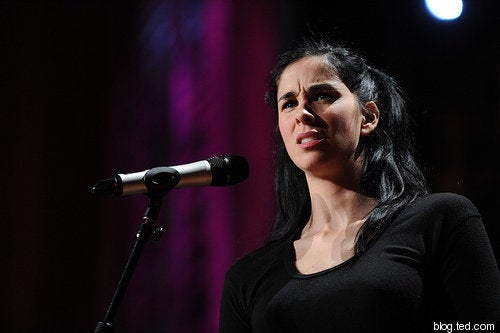 Sarah Silverman (comic, cheese lover, boundary pusher) was invited to speak at TED this year -- a conference on technology, education and design. TED always draws big names and they try to mix it up by adding entertainers to the schedule along with world-class scientists, politicians, business leaders and media honchos.
But while past performers like Matt Groening and Regina Spektor kept it low-key, Silverman decidedly did not. Although the video is not available yet (we're wondering if it ever will be), TechCrunch has a first-hand account. Apparently, in reaction to Sarah Palin's recent crusade against the word, Silverman kept using the term "retarded" over and over again in her routine, which was about wanting to adopt a "retarded child." Here's what she said according to TechCrunch's tipster:
"The only problem with adopting a retarded child is that the retarded child, when you are 80 is well, still retarded and that she wouldn't enjoy the freedoms of setting them free at age 18, so she was only going to adopt a retarded child with a terminal illness so it has an expiration date, because who would adopt a retarded child with a terminal illness? Well, someone who was awesome like her."
The room reportedly fell silent at this moment and Sarah went on to sing a song about penises. After her talk, TED organizer and journalist Chris Anderson took to Twitter to express his dismay: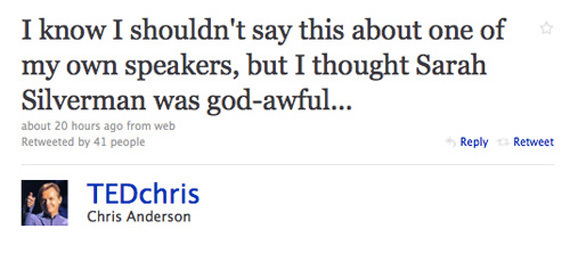 He has since deleted the tweet, but that hasn't stopped this all from rolling into a controversy. The question many are asking, "what did he expect?" Silverman is widely known to push the envelope whenever and wherever possible. Her TV show had her dressing in blackface, she mimed having sex with cheese at the Independent Spirit Awards, and sang to her then-boyfriend Jimmy Kimmel about f**king Matt Damon.
Silverman responded yesterday with her own tweet, admonishing Anderson for his reaction: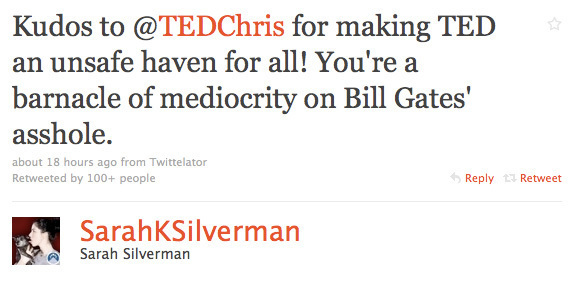 But Chris wasn't the only one upset. Co-founder of AOL Steve Case tweeted that Silverman was an inappropriate choice for TED, which may be true, but (again) the people who run the show should've expected this. Silverman fired back saying "@SteveCase You should be nicer to the last person on earth w an aol account" which lead Case to tweet "@sarahksilverman The sad thing is you're not that funny." We respectfully disagree, and so did half of the audience who gave her a standing ovation.