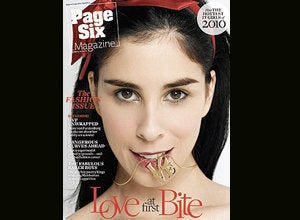 "The guy I'm dating now, who is so awesome, is not my typical fare. He's really skinny. Usually I like pudgy, macho-ish guys," Sarah said in an interview with Page Six Magazine, out Thursday. "But I think I mistook macho-ish for strong, emotionally. And I think it's really the opposite."
"I think he's the first guy in a decade who's given me any kind of compliment, like saying I'm pretty or anything," she said.
Alec may be sweet and skinny, but he's strong. Last week Sarah told David Letterman that she suffered a hand-shaped bruise on her behind as the result of some rough love.
Sarah also opens up to the magazine about what it was like reentering the dating scene last year after more than five years with Kimmel, for the first time since becoming famous.
"It felt a little isolating," she said. "Part of the fun of meeting someone is having them discover you. You're doing your little tap dance, like, 'This is me!' And then [the person has] all these preconceived notions, things that are partially true and partially not."
REAL LIFE. REAL NEWS. REAL VOICES.
Help us tell more of the stories that matter from voices that too often remain unheard.